When Kerry and Leonard decided on Hog Roast Ashford catering for their newly-born daughter's post-christening celebration, they had asked us to create a feast for the eyes and a feast for the senses. We create truly tasty food that we want everyone to enjoy, and when it comes to our hog and spit roasts, we prepare, cook and serve traditional centrepieces that are wonderful to look at, smell amazing and of course, they taste fantastic too.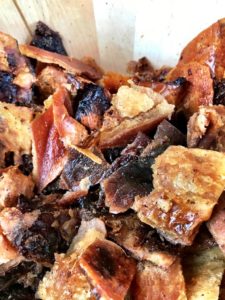 Kerry and Leonard had asked Hog Roast Ashford to cook a small hog to feed around twenty guests of friends and family members, as well as cater for a vegan guest. We often provide plant-based options, and we have plenty on offer for all kinds of special diets, as we've spent years making sure that everyone is catered at any kind of party or event, regardless of the formality. For this informal gathering, to be held at the couple's home, in the large back garden, we would prepare the hog from scratch and roast for hours and then nearer the time of service, cook our homemade vegan mac and 'cheese' too.
On the morning of the little one's christening, Kerry and Leonard let us set up in the back garden well before they headed off to the church service, as it takes a good few hours to roast a hog to absolute perfection. After we set up our gazebo under the warm sun, put up the serving table and turned the hog roast machine on low, our chef scored the meat all over in diagonal shapes, added lots of water to keep it moist and then smothered the meat in lots of salt, which makes the crackling.
While it was sizzling away, our hard-working, dedicated Hog Roast Ashford team of our professionally-trained chef and catering assistant took turns to watch over it. Later on, we prepared the vegan mac and 'cheese' and set it cooking too and before long we had a lovely meal ready for the family and their guests to return to, with piles of pigs in buns and the vegan option all fresh, hot and just waiting to be devoured.