Hog roast machines are quickly becoming one of the most widely used machines for people to utilize when they are catering, or providing a lot of food for a large group of people. These machines are extremely versatile and you will be able to cook both your main course as well as your side dishes all on one large machine. Typically, hog roast machines are made with stainless steel cases, which cease the heat from escaping the internal surface of the machine. Anyone that has roasted a large animal at one time will admit that the machine that they used had to emit a lot of heat in order to cook the animal to perfection. Hog roast machines can be used for roasting a large hog or any other medium sized creature.
Contrary to belief, these machines can also be used to roast all of your vegetables for your catering event as well. If you wish to roast vegetables with machine, you will be required to insert stainless steel pans into the base of the machine and nestle the vegetables within the actual heated base. Vegetables should only be cooked for a short amount of time. You do not want to attempt to roast your vegetables for the same time span that it takes to roast your main course. A lot of people tend to adore using our hog roasting machines. With us, you have the option to hire a machine to use or choose to purchase one of our machines if you have an adamant amount of funds available for the investment. However, a lot of our clients will opt to hire a hog roasting machine before making a large investment in purchasing one.
From Beginners To Professional Chefs
Upon hiring a hog roast machine we will provide you with the hog roaster for an allocated amount of time that you decide upon. We can also provide you with our catering services, if you do not consider yourself an adamantly good cook. The machine will be taken to your specified location. Our main offices are stationed in the United Kingdom, but we do not have any restrictions when it comes to the places that we ship our equipment to. Your hog roast machine will typically arrive the exact date that you specified. Obviously, if you are opting to hire one of our machines it is imperative that you inform us of your decision ahead of time, so we can ensure that the machine is sent in enough time for you to cater your large event. We provide all the basic essentials that you will need when cooking with our hog roast machine. Inadvertently, in order to make it substantially easier for an individual to operate one of our machines we include a step by step instruction manual that you can use. This manual will lead you through the basic set up of the machine and how everything on the machine operates. After becoming aware of what our hog roasting machines can do, there are a lot of people that opt to purchase them thereafter. If you decide that you cannot part with our hog roasting machine after you have hired it, you will be given the option to buy it, if you desire to do so.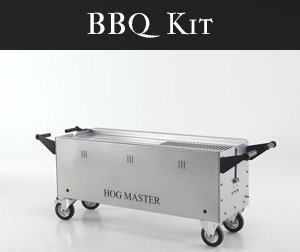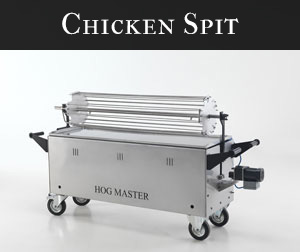 Another service that we at spitting Pig Kent provide is the choice to hire out one of our specially designed hog roast machines. There are many reasons why hiring out one of our machines for a period of time is such a great idea, so if you have never though about it before, have a read below to see what makes this such an interesting idea.
If you want to truly impress your guest at your next event, then what better way could there be than to cook all of the food on a specially designed spit roast machine. If you want to give your party or event a more personal touch, then cooking the food yourself and serving it straight to your guests is truly a fantastic way to do so. All of our machines are easy to operate and you will be surprised just how much food you can cook on them. If you do not want to cook a pig on the machines, you can just as easily cook all sorts on meat on them. If you decide you want to serve lamb, beef
or chicken to your guests. These machines are so adaptable that they are even perfect to use to cook vegetables on them. What's more, the sheer amount of food you can cook on these machines is truly astonishing. Our hog roast machines can easily cook food for up to 125 people at a time, with every bit of food that gets cooked as delicious as the last.
You get to decide how long you want to hire out one of our hog roast machines for, all that we ask is that you let us know how long you wish to hire out one of our machines in advance.