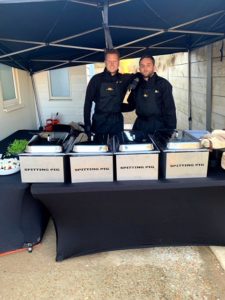 Here at Spitting Pig Kent we feel that not only do we provide the best hog roasts you can find anywhere in the country, but we actually provide the most delicious and mouth watering food as a whole you can find. We have an enormous sense of pride at the food we provide to our customers across the Kent region which you can really taste from the first bite. As well as serving the finest meats available, cooked on one of our top of the range machines by one of our fully trained and experienced chefs, we at Spitting Pig Kent also aim to give our customers the finest service money can buy.
You are sure to be impressed by our fantastic range of menu offers too, all of which are extremely good value. You get to decide how you want your hog roast menu to look, right down to the smallest detail.
You can even decide if you want your hog roast to be the most extravagant service of the year to feed hundreds of mouths, or a less formal barbeque service where you only need to serve a handful of guests. We at hog roast Kent are able to cater for all parties no matter what the size or occasion, we will still provide the same delicious hog roast food and give you and your guests the best customer service you can buy anywhere.
A Memorable Catering Experience
Of course it is not just the food which makes what we do at Spitting Pig Kent such an outstanding choice if you need a catering service, it is also the unique experience that we provide that you will not be able to find anywhere else.The way we slow cook one of our succulent pigs in front of your guests eyes for just the right amount time really is brilliant and unique sight to see. The sound and smell that we drift through your party or event as the spit roast slowly cooks the food will give the whole dining experience an atmosphere and experience like no other. It is also sure to give your guests a fantastic talking point and will truly make your event a memorable one if you choose Hog Roast Kent. After seeing and smelling their food get slowly cooked to mouth watering perfection right in front of their eyes, your guests will fully appreciate just how delicious our food is once they have taken their first bite. If you have never tried a hog roasted pig that has been cooked for hours until it is just right, there really isn't a better time to experience it than right now with Hog Roast Kent. We always aim to always give out customers the best possible dining experience at every occasion, which is why we have rose to become one of the most respected and successful catering companies in the whole of Kent.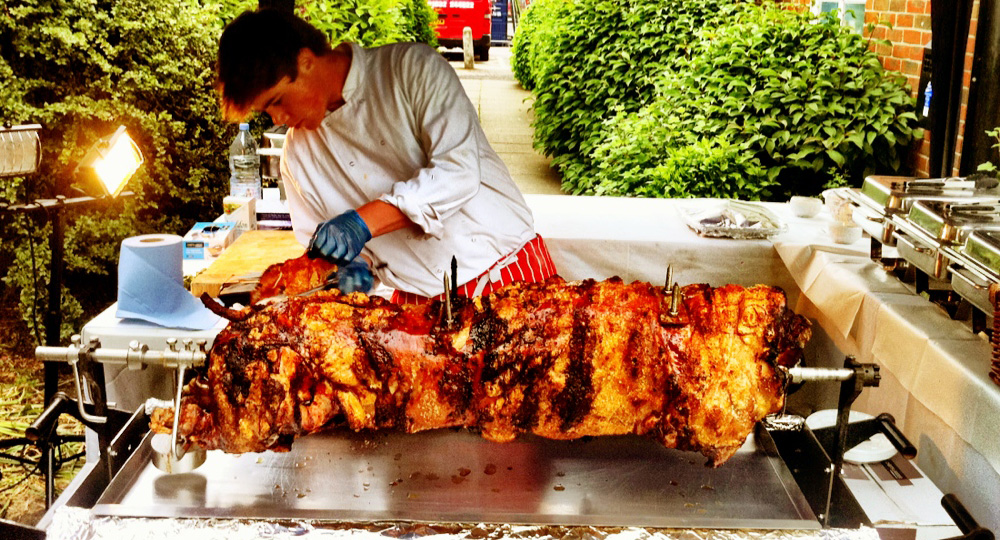 To make sure our food is of the best quality, it is cooked by our team of highly skilled, qualified and trained chefs. Our chefs are some of the best in the whole of Kent and will only serve food if it meets their impeccable high standards. This type of service just comes a standard when you choose Hog Roast Kent as everything we do is to make sure you have a truly fantastic and memorable night.
Whether you are organising a corporate event in Folkestone or a picturesque birthday party in Ashford we at Spitting Pig Kent will still be able to provide you with the same top quality service all year round. We have provided first class hog roasts to people all over Kent, from Chislehurst to Orpington and everywhere in between. Their is no event too big or too small for us, we are also pleased to provide our unique service to whoever wants to experience our delicious hog roasts. We have a range of menu options to suit any occasion and all at a price we are sure you will find very reasonable. It doesn't matter if you want our the food to be served inside or out, we are able to serve our delicious food anywhere and anytime. There is also a bespoke menu option so that every last detail is exactly how you want it to be.
Renowned Hog Roast Catering
When it comes to excellent food served in a truly unique way with amazing service and price too, there really is no better option for any occasion than Spitting Pig Kent.
The Hog Roast Kent catering team is made up of hardworking individuals and all of us share the same passion for food and outstanding of customer care giving our clients the best experience possible. We all follow the same high standards and work exceptionally hard to achieve our goals. As everyone one of us has experience in the catering industry we are able to share and ideas and visions to create an outstanding customer focused business.
[peekaboo]
[peekaboo_content]
Our hard working sales team based in our office are always on hand to offer advice and support in the lead up to your event. When you make your initial enquiry they will be more than happy to discuss different options and packages with you and even help you create your very own personal menu. Nobody does a hog roast in Sevenoaks like us and this is thanks to our years of experience and taste improving secrets that we have learnt over the years. Each Chef and catering assistant is fully qualified and trained to high standards. Our catering team have designed a collection of extra special menus perfect for all your occasions. They only use the best products when creating dishes for your catering experience and we never ever compromise on quality which means you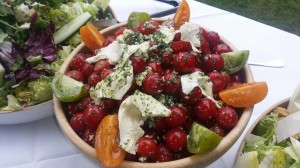 never ever have to compromise on taste.
For some events you may require those extras such as waiters and waitresses, a front of house person or perhaps staff to serve champagne or canapés? We also have a hard working team just for these tasks. Each team member is fully trained and has extensive experience at all types of events. You can be sure that our professional service team will always be polite, well presented and respectful to you, your guests and your needs. The whole team understand that first impressions and appearances is everything in this industry. This is why we will always arrive well presented in full Spitting Pig uniform and everything from the table cloths to the silverware will be immaculate.
Founded in 2003, the Spitting Pig Kent has years of catering experience to back up the delicious food put out by their state-of-the-art hog roasting machines. All machines are made in house to the highest standards, and the food that is produced will be some of the best you have ever eaten. Our company is committed to first class service and presenting a meal no one will ever forget. Our company has been devoted since the beginning to providing outstanding customer support while cooking up delectable meals perfect for any occasion. Go whole hog! This is our specialty meal, but we also provide other choices for you. Lamb, beef, chicken or turkey are available as well as sausage, kebabs, burgers, and spare ribs. Vegan and vegetarian options are also on the menu, and sample menus can be adjusted to fit any taste or budget. All of our food is procured fresh from local farmers and prepared on site, including side dishes and desserts, by our highly-trained personal chef. The complete team will arrive several hours before the event in order to set up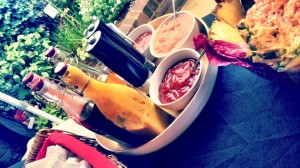 tables, linens, and dinnerware as the chef cooks the hog roast meal of a lifetime that you have chosen. Once your guests are fed, while they are raving about how delectable the meal what, our servers will discreetly remove the remains and dispose of the rubbish.
Whether you're thinking of an indoor or outdoor event, and no matter what size, our company will do whatever it takes to accommodate your needs within your prescribed budget. Our planners will work very closely with you to make sure we don't miss one detail of what would make this the perfect party or event for you. We are experienced, we are dedicated, and we are excellent at what we do. We won't rest until you are happy with our services. Our company has traveled all over the country, catering events from a simple backyard BBQ to a presentation evening; from weddings to cocktail parties to sporting event get-together. We can handle any crowd in any location, with an amazing meal using ethical farming practices and fresh, local ingredients. You will never taste a better meal in your life, and neither will your guests. If you prefer to cook yourself, our hog roasting machines can be rented or purchased. Manufactured and developed in-house, our equipment for hog or meat roasting is one of the best in the business. Contact us for details if you are interested. Quality is more than a product. It is a team effort, with excellence as our attitude.
[/peekaboo_content]