The weather in Kent has been lovely as of late, with temperatures reaching almost 30 degrees on the hottest days and the skies showing nothing but shades of clear blue for miles. And, making the most of the much-welcome sunshine, residents of Allhallows have been getting in touch with the Hog Roast Allhallows team to organise catering for their spectacular events.
Among our recent influx of bookings came a very special request from Emily, who had been looking forward to celebrating her baby boy's Christening with her nearest and dearest. Matt, our catering manager, was all too happy to help Emily choose the menu that best fitted her chosen rustic theme, which, of course, turned out to be our Southern Slow Roast menu.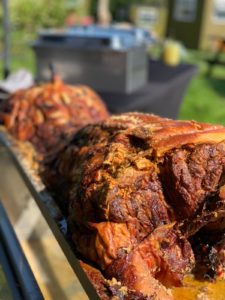 This Deep South inspired spread includes a trio of scrumptious meats, which, on this occasion, consisted of pulled BBQ pork butt, Cajun-spiced free-range whole roast chicken and fall off the bone Louisiana sticky pork ribs; all of which had been pre-marinated in our secret recipe rubs before being cooked low and slow over the flickering flames in our HogMaster. Adding an extra punch of flavour to the beautifully seasoned meats, Hog Roast Allhallows included our legendary boozy hickory bourbon BBQ sauce and fiery cajun hot pepper sauce to the mix – which, trust us, is not for the faint of heart!
With the meats taken care of, Matt and the Hog Roast Allhallows team spent the remaining time before the guests arrived by preparing the sides of Memphis style crunchy coleslaw, seasonal green leaf salad with a homemade dressing, all-American mac and cheese and crispy on the outside, fluffy on the inside mixed sweet potato and traditional fries. Making Emily's private garden after-party feel even more magical, our team had also decked out the catering gazebo and tables with twinkling lights.
Emily was taken aback when she arrived home with her bundle of joy wrapped up in her arms and her guests following close behind and wasting no time, everyone followed their noses to the catering table where they collected platefuls of Hog Roast Allhallows' drool-inducing creations!