Getting engaged is an incredible feeling and can be very exciting for your friends and family. The way you choose to tell them is entirely up to you- you could opt to simply drop it into conversation or host an engagement party for your guests to enjoy! At Hog Roast Lenham, we have several buffet menus that are ideal for celebrations such as this, including our classic hog roast…
Max and his partner recently got engaged while on holiday in Paris. The pair enjoyed a beautiful evening meal in front of the water, which was the perfect setting for asking such an important question! Upon their return to England, the couple planned to host an engagement party to celebrate the occasion, with a little help from Hog Roast Lenham. Max was looking for a menu that would be ideal for 40 guests and could be served from the garden of his home. After looking through our menus, it was decided that our Gourmet BBQ menu was the ideal choice for the occasion.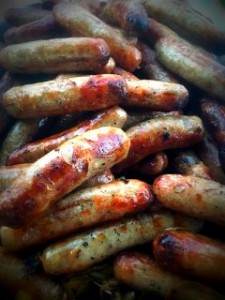 On the day of the event, the Hog Roast Lenham team arrived at Max's home and got to work setting up our catering station in his garden. It was a wonderfully sunny day, and the weather was ideal for enjoying a delicious barbeque. All of our dishes are cooked freshly on-site, so we began by grilling the sausages, British beef burgers, halloumi and vegetable skewers, marinated chicken kebabs, and BBQ spareribs. As well as the mains, we served fresh bread rolls, crunchy coleslaw, green leaf salad, homemade chips, sweet potato fries, and corn cobettes. This created a delicious and nutritious menu, with plenty of different catering options for the guests to enjoy. There was plenty to go around and our menu was the perfect addition, making the event even more memorable!
Whatever style of catering you require, Hog Roast Lenham are on hand to help you out. To secure your catering today, simply let us know your party size, date, and location and we can do the rest. We hope to hear from you soon!