After over two years of waiting for their big day, Melanie and Scott finally tied the knot last weekend with all of their closest friends and relatives there to support their union!
As was the case with many couples, the pandemic had thrown a spanner in the works of their original plans. And by the time lockdown restrictions had eased long enough for them to reschedule, the pair had found out that they were expecting their first child together, causing them to postpone again. So this special day really was the third time lucky for them!
Their traditional wedding was held on Saturday afternoon at a luxurious Tudor mansion, featuring immaculately landscaped gardens, a stunning ballroom for entertaining the couple's 150 guests and plenty of original features, which added character to the space. What made the day even more magical for Melanie and Scott was that their little girl, Violet, was able to attend, and having her there with them on the day made their wedding worth waiting every second for.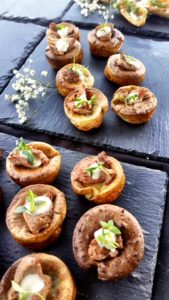 Hog Roast Chilham was present for the couple's reception and was proud to serve a delectable three-course meal, complete with a drinks service and canapés for the wedding party to sink their teeth into. The all-inclusive menu was perfect for keeping everyone occupied, which afforded Melanie and Scott some time to sneak away for photos.
When the couple returned from their private photoshoot with baby Violet, Hog Roast Chilham's serving staff followed their cue and presented each of the seated guests with a bowl of homemade soup and crusty bread with butter. Once everyone had finished, it was time to follow up with a choice of either spit-roasted whole English lamb with Yorkshire puddings and mint sauce, thyme and sea-salt seasoned free-range chicken with chipolata sausages and sage and onion stuffing or BBQ pulled jackfruit rolls with vegan coleslaw. Roasted new potatoes and fresh salad were also on the menu, as well as hot dogs and veggie burgers for the children.
We're pleased to say that Melanie and Scott's wedding was everything they had dreamed of and more. Hog Roast Chilham's catering manager, Matt, did a wonderful job and provided the group with a mind-blowing meal, which ended with a buffet of tasty dessert options.