With only a handful of sleeps left to go before the big day arrives, the Christmas countdown is really beginning to pick up momentum. But if you haven't yet found the perfect gift for that special someone in your life, then the ticking clock might be causing you more feelings of stress than excitement right now. If we're right, and you're still in the process of desperately hunting down the ideal present, then don't worry – Hog Roast Appledore is here to help you however we can!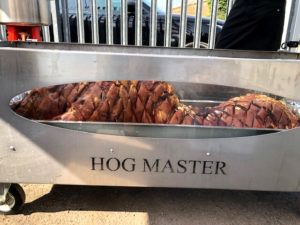 While presents make up for such a small part of the festive period, we know that it's still important for many people to show how much they care through the act of giving a meaningful gift. Unfortunately, finding said gift, as we've all discovered, isn't always as easy as we'd like it to be. From experience, we know that it can take a long time for that lightbulb idea to strike. But we also know that the best presents you can give are the ones that are not only thoughtful but useful, too.
With that in mind, why not give a gift that keeps on giving this Christmas with our HogMaster Pro? As the crown jewel of the Hog Roast Appledore collection, these wonderful little machines are lightweight and compact for easy storage, durable and versatile, to boot. Seriously, no matter if your plan is to roast a 35 kilo pig or treat the whole family (and extended neighbourhood!) to a BBQ spread with all the trimmings, this nifty device will allow you to do it all – and more – with zero effort.
Whether you're looking for a gift for an able home cook or someone who's still testing the waters, we assure you that the HogMaster Pro is one present they'll cherish for many years to come. Another great thing about purchasing a machine from Hog Roast Appledore is that you'll be set for gift ideas for a long while since we offer a full range of accessories, add ons and accompaniments, which help to refine and personalise the cooking process.
For more details, speak with our catering manager, Matt, today!