Last Thursday, Hog Roast Woolwich attended a magical winter wedding which saw bride and groom Alex and Kyle tie the knot in the presence of 80 guests.
Having first bonded over their shared love of history, the couple had chosen to pay homage to the very topic that brought them together by getting hitched in a 600-year-old character property nestled in the core of 1066 country. The rustic venue looked like it had been frozen almost completely in time, with the inside boasting original features like inglenook fireplaces, overhead beams, dark oak floors and medieval doors. Instead of traditional chairs, benches covered with sheepskin rugs were arranged on either side of the aisle, too.
In the dining hall, two long tables had been decorated with chunky white pillar candles and garlands that had been laced with seasonal flowers. The dim lighting added to the romance and historic atmosphere of the venue, and for Hog Roast Woolwich, who arrived on site long before any of the guests made an appearance, it really felt like stepping through a portal into the past.
Adding to the authenticity, our team, led by Matt, Hog Roast Woolwich's marvellous catering manager, prepared a traditional hog roast banquet with a few extra festive favourites. Due to the cold weather, the menu took a little bit longer than usual to complete, but Matt's excellent timekeeping skills meant that by the time the happy couple had finished exchanging vows and posing for family photos in key locations around the property, the food was ready to be served.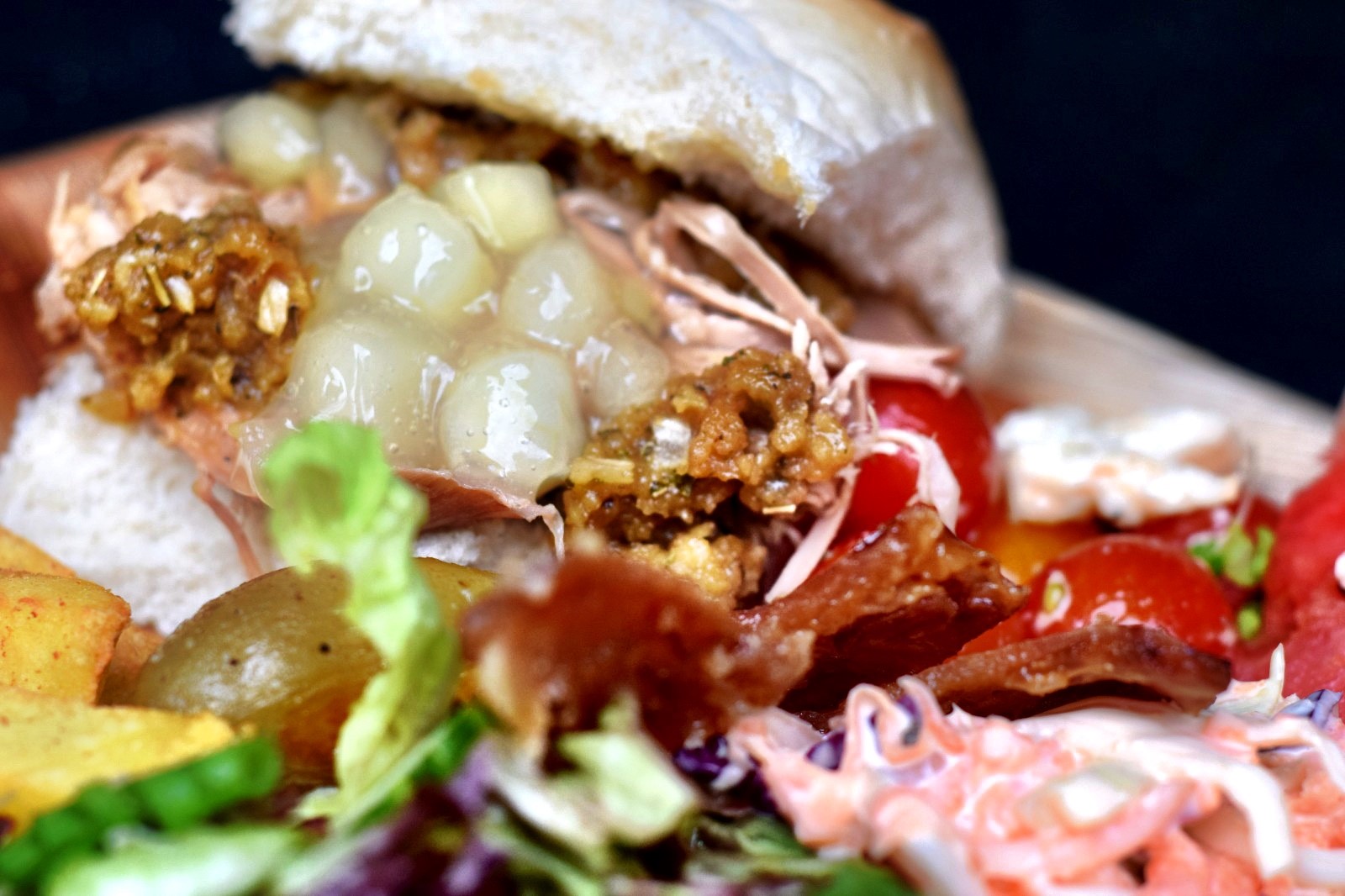 As the bride and groom, Alex and Kyle were the first to be served their plates, which had been generously filled with fork-tender shredded pork, salty and crisp crackling, sage and onion savoury stuffing and a dollop of applesauce with a side salad, roast potatoes, glazed seasonal veg and pigs in blankets. The guests quickly followed suit, collecting their own plates before returning to the dining area. After the main, Hog Roast Woolwich sliced and dressed the couple's wedding cake and served it to the seated guests with a traditional mince pie and a glass of mulled wine.
Alex and Kyle were so pleased with how their day panned out and were positively thrilled with the menu, which matched their medieval theme to a tee!