Earlier today, our Hog Roast Isle of Sheppey chef and team members helped Holly to celebrate her 21st birthday in style. We were asked by her parents to cook a traditional hog roast for her milestone birthday, in order to feed 50 guests plenty of our delicious and moreish pig in buns. To make pigs in buns, which you may well know as hog roast rolls, we start off by sourcing the meat from local suppliers that we've known for years, so we know that it's excellent quality and fresh as can be. We prepare the meat ourselves on-site at your venue and then cook for hours on end, until we produce moist and tender morsels of meat and salty, crunchy crackling too. To satisfy your hunger, we pile bits of the meat and crackling into soft bread rolls and wraps, top with our own-recipe apple sauce and stuffing, and then it's time to gobble it up.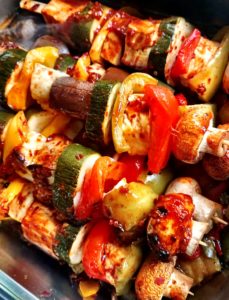 This morning, we arrived at Holly's family's home, where we would be preparing, cooking and serving the pigs in buns as well as a vegetarian option. We can cater all kinds of personal tastes and diets if ever needed, and vegetarian guests can enjoy stuffed mushrooms or peppers, burgers or quiche, but quite often choose our tasty grilled veggie kebabs, full of flavourful halloumi and vegetables and served in pitta bread alongside a Tzatziki dip.
By lunchtime, our hog was sizzling in its own juices and would be for some time yet and in the meantime, it was filling the surroundings with meaty aromas and enticing everyone with that and the wondrous spectacle of it too. Hog Roast Isle of Sheppey has spent many years providing feasts for all occasions and our hog and spit roasts are always a sight for sore eyes and commented on again and again.
Once the hog had rested for a short while, we carved away and got on with the task of satisfying most of the guests' hunger with the best pigs in buns in town, as well as some lovely skewers for the veggies.
See how Hog Roast Isle of Sheppey can help make your special occasion a great success too; give us a call and you'll see!