Hi there,
Brilliant! The staff, food and service were excellent! Very well organised, just as it was described – the staff were punctual, friendly and very organised. Everyone really enjoyed it.
Thank you to you all
Hi Geordie,
Yes my feedback is that all of your staff were absolutely brilliant nice and friendly and professional…and all the food was amazing and everyone said how lovely it all was and we will definitely be using you guys again in the future.
Thank you so much
Maddie
Hi Geordie,
Yes, it was a great event and the food was enjoyed by everyone – we received such lovely comments.  Well-deserved thanks must go to John and his colleague – they were fantastic at what they do – everything that you stated on your website beforehand.  Discreet, knew exactly what was needed and we felt that anything that we wanted could be catered for.  I would recommend to anyone and please pass our thanks on to everyone involved.
We would certainly recommend Spitting Pig.
Kind regards,
Bill & Paula
Just to say, the team arrived at 4, food was ready by 6; they were great, in fact brilliant, the food was phenomenal and the whole evening was a great success. The feedback from our friends was universally outstanding and we are planning to do the same again next year. As soon as we set a date, we'll be in touch.
Best wishes.
Keith
Thank you for arranging our BBQ for us. We had a lovely time and the food was amazing.
Both guys where friendly an exceptional at their job, all guests enjoyed the food, it was well presented and catered for every need.
😊
Lorraine Dalton
CLS Facilities
Hello Geordie,
Our experience with The Spitting Pig Company was phenomenal from start to finish. We had canapes, lunch and a BBQ in the evening.
The food was beautifully served and was absolutely delicious. We haven't stopped talking about it since. We had left over food which we were able to store and freeze for a later date- we can't wait to have another taste.
The caterers were polite with a good sense of humour and all guests haven't stopped talking about it since. There was plenty of food to go around.
Thank you so much for catering our wedding, it really made our day perfect.
Louise & Mac
Good Morning Geordie,
We were planning on emailing you today. We just wanted to say a huge thank you to the team that attended on Saturday. Everyone commented on how efficient and polite they all were! And with very little input from ourselves as we were having to sort other bits.
We were very impressed with the quality of the food and the service and will certainly be looking to book you again for next years events.
Please pass on our thanks to the team for a fantastic job and bearing with us throughout the day.
Best wishes,
Emma Parr
Hello Geordie,
The food was amazing. I heard loads of positive comments from many guests. Including the lamb is banging! High praise!!
We would both recommend you guys
Many thanks
Amy
Hello Geordie,
The food was amazing. I heard loads of positive comments from many guests. Including the lamb is banging! High praise!!
We would both recommend you guys
Many thanks
Amy
Hi Geordie,
Everything was perfect, the timing, service, the team and the food was outstanding. All of our guests were extremely happy and commenting on the how good the hog roast was.
Thank you so much for everything, it's been so easy to organise and if we ever need to book a hog roast again, which I am sure we will, we will be in contact.
Thanks again,
Emma and Gary
Good afternoon
We had a fantastic time on Saturday 3rd. We all enjoyed the food it was nicely cooked.
Thank you for making Jeff's 60th birthday special. I will definitely use you again in the future and recommend you.. with heartfelt thanks to you and your team.
Kind regards Fiona
Hi!
Thanks Matt for providing the amazing food for our special day. We've had lots of compliments and guests saying they had seconds! The guys were friendly, hassle free and no worries our end.
Would highly recommend you for any other events.
Mr & Mrs Stevens x
Hi Geordie
it was fantastic! Professional, friendly, efficient and lovely team, all our guests were very impressed, as were we. Food was excellent and much enjoyed! Would not hesitate to recommend you or come back to you.
Kind regards
Barbara
Hi Geordie
You have all been excellent from start to finish. Always polite, efficient and accommodating even up to the last minute changes.
Thank you to everyone, especially to Matt and his team on the day who blended in with no hiccups and provided fantastic food and superb service throughout. This added to making our first event a huge success.
Highly recommended indeed.
All the best
Andrea
Hiya,
I booked Spitting Pig as a gift for my mothers 80th Birthday party and it went down a treat! We'd invited people from all over the country to come and celebrate and were quite daunted at the sheer amount of people we had to cater for but you guys were just fantastic from start to finish. Set up was exactly on time and there was more than enough food to go round everybody.
Mum was also very happy we'd picked you as she'd tasted your food before at one of her co workers weddings!
Thanks for all your help!
Ella
Hello Geordie
I hope my email finds you well. I did send a note to Matthew yesterday thanking him and the wonderful team for Saturday evening. From start to finish, including the run up to Saturday, everything has been great, the communication couldn't have been better. On the night the team were fantastic, the set-up was great as was the food and the service. Thank you to you, Matthew and the whole team once again.
Kind regards,
Hayley Hunt
Executive Assistant to Torbjorn Caesar, Senior Partner
Hiya,
I booked you on short notice last week after our first caterer pulled out last minute! You were so so so helpful from the second panicked me first got in touch! As a vegetarian myself i didn't think id have much to eat but i wasn't that fussed as long as everybody else was getting yummy food. But omg was i wrong, the bbq pulled jackfruit was ridiculously good and tasted just like pulled pork used to do! I made myself some loaded fries and once id done it everyone else started to aswell! 10/10 and you will be my first port of call for catering from now on!
Thanks for saving the day,
Lottie x
We used Spitting Pig Kent to cater for our wedding party, the food was exceptional, great set up and the staff were professional throughout.
Great communication from the booking right through to the day of the party.
All guests commented on the quality of the food, even the venue owner said it was the best she'd had and would recommend them to future bookings.
5 star service!
Hi Geordie,
The guys were absolutely fantastic, especially as the weather was so bad!
We had loads of comments about the food and it was so needed, especially after a few drinks! Matt also made a special crackling run for me which was delicious…I've been vegetarian for 5 years so i think that speaks volumes 😂
Honestly can't fault the food or the service at all, thank you all for everything.
P.s…..I'm currently devouring the last of the herby potatoes which are amazing!
All the best
The food was absolutely amazing! The canapes and the antipasti platters looked incredible but the centre of attention was on the hog roast!
I appreciate all the work that the guys have put in to our Halloween event!
Everything was fresh and tasty and as always, the service was exceptional!
Regards,
Daniel
Hi,
Everyone loved the food. Matt was professional, the service was smooth. In particular the people who were vegan said the attention to detail with making sure they served with separate utensils was very much appreciated and a really big thing to them. As they have had different experiences else where.
Enjoyed leftovers the next day too. Thank you Matt for your professionalism.
Kind regards
Good evening,
The team provided the most delicious formal dinner for the Medic's Association Ball last week. Most of the previous hosts/hostesses have found it satisfying to prepare several elements of the meal themselves, however with my busy schedule I was forced to find another option! I was delighted when I noticed the selection of mains and desserts available on your formal menu as it allowed me to have a good input in the specific elements of the meal. Thank you so much
We were so impressed with your whole service.
The food was really good, our guests and ourselves thought it was delicious.
It was so nice not to have to worry about cooking for everyone myself for our Golden Wedding anniversary and to have everything cleared away so well was lovely.
Would definitely recommend your service.
Thank you so much.
Hi Geordie,
Thank you so much for catering my birthday party. Everyone had commented on the exceptional service and quality of the food, everyone was well looked after.
Please send on my thanks to the team who came on the day.
I will highly recommend the Spitting Pig to anyone looking for a caterer.
Thank you again,
Rachael
Hi Geordie
Our surprise event was very successful. All our guests thought Matthew and his colleague from the The Spitting Pig Co were very efficient and professional. Our guests thought the food and service was excellent!
Thank you.
Kind regards
Thanks, Geordie.
Spitting Pig were a life saver for me as my prior hog roaster let me down with only a few weeks to go.
I've used Spitting Pig before and this occasion didn't disappoint either.
The Chefs turned up on time and quietly and efficiently went about their business whilst my guests arrived.
Both chaps were polite and amiable, serving my guests in a timely and friendly manner.
Everything was cleared away, including the waste, with no fuss and the leftovers left with me.
Spitting Pig delivered what was requested, at a very comparable price and in a manner that didn't interfere with the celebrations.
An easy transaction from start to finish.  I would thoroughly recommend them and will certainly use them again.
Best regards
Hello Geordie
The event was a success thanks to your team! The boys were so efficient and accommodating, set up was done without hassle and they cleared up so quickly and discretely …it was a burden taken off my hands! And off course – the roast and accompaniment were delicious! I already had a few guests asking for Spitting pig contact number!
Thanks again
Hi Britt
Apologies for the late reply.
I was planning to email you anyway to thank you for everything you did to help us plan for the day. Also a big thank you to Tim (sorry if that's not his name!) who was brilliant on the night. He was lovely and the food was delicious. Our vegan and vegetarian guests loved the Jackfruit as well! We will definitely recommend you!
Many Thanks
Good morning Geordie,
Thank you for your email! The catering on Thursday was indeed a success. The food was delicious I have had colleagues tell me how much they enjoyed it, and we felt everyone got the food so smoothly and everyone was catered for. The guys that came set up and packed up so efficiently, and they were so lovely and professional from the moment they arrived.
Thank you so much for your services.
Kind regards
Hi Geordie
Our wedding event was a huge success thank you.
Your Spitting Pig team were very professional and laid on an amazing spread of food for our guests. The food was delicious and the service very attentive. I would highly recommend you to anyone.
Thank you for all your help.
Kind regards
Hi Geordie,
Matt and the guys were totally professional and the food was amazing. We really can only pass on the highest praise and a hug thanks for making the event so special . Let us know where we need to put the review cheers Howard.
Hello,
The food and service was fantastic! Every single person commented how amazing the quality of food was and the guys were so friendly! Please thank them again for me!
I will definitely be recommending you to everyone!
Kind regards
Hi there,
Thank you so much for catering for me last minute. Everyone had commented on the spectacular service and food despite she shocking weather! Please send on my thanks to the chef and his team. I will definitely consider you guys in the future.
Dear Spitting Pig,
Thank you so much for the delicious Spitting Pig and food at the 18th birthday party at Chilton Magic Garden. You helped make it a real success that everybody enjoyed. Lovely people, food, music, weather, setting, it was perfect!
I will gladly write a great review for you and perhaps you can write one for Chilton Magic Garden too, as enjoying being part of the event, that some of the youngster called the 'party of the Century!'
We would like to promote you too through our website posts if that's alright.
Thank you so much again.
With kind regards
Hi Geordie,
Many thanks to the Spitting Pig Company for helping make the event a great success. All the guest joyed the food and there was plenty of it ! The guys worked hard on the day in very inhospitable weather.
Regards
Had the best experience with Spitting Pig Kent. The food was delicious with the hog roast all tender and full of flavour. Staff were polite and helpful also making the whole day even more enjoyable. Couldn't have asked for more!
Thank you for catering my mum's 60th birthday – she had a great time! She loved the pig on the spit (as did the children who were very curious!) and it all tasted exceptional! We will definitely use you again.
What can I say? The food from Spitting Pig is amazing! We booked them as our wedding caterer for our tipi wedding and they provided us with the most amazing Hog Roast, the best stuffing I've ever tasted and new potatoes that our guests couldn't stop talking about!
Not only was the food awesome, but the service was also seamless despite being in a gazebo in the middle of a field.
Loved it from start to finish.
Huge thank you for catering our family get together last Sunday. With covid disrupting previous attempts, the day was magical in getting everyone back together again and the food the cherry on the cake. Everyone complimented the pulled pork rolls and especially the crackling! Definitely will be booking gain for the next party! Guaranteed!
We first enquired with Spitting Pig well over a year ago to cater for our wedding. Covid meant we had to change our date twice, but Spitting Pig were fantastic and very understanding. Communication was brilliant throughout.
We had our wedding last week and the food was absolutely spot on. The serving staff were so friendly but still professional, and everyone commented on what a nice change it was to have a hog roast at a wedding.
Thank you so much for everything!
Hi
I have already posted a 5 star review on Trip advisor and will be happy to do so anywhere else.
The food was magnificent, the team were fantastic and your service as a company is exemplary.
We have already recommended you to a No of our guests.
Thank you so much for making my sons 40th Birthday party a night to remember.
Kindest regards
Dear Team,
Thank you for all of your help on Saturday. I know our set up was a little chaotic, but you rolled with the punches and helped everything to run smoothly. All of our guests raved about the food.
I have left you a trust pilot review. 
Matt and his team were punctual, helpful and friendly. The food was delicious and our guests raved about it. It made our wedding meal a huge success. Thank you for your help!'
With thanks and best wishes
We had a fantastic time ,thank you all so much.
The team were great from start to finish, food superb and service perfect .
Wholeheartedly recommended your guys to everyone.
Fantastic food, fantastic staff and a fantastic night for my family. Got an abundance of compliments on how nice the food was and how friendly the staff were too. Thank you for an amazing night.
The food was amazing and guests still comment to us about how good it was! The team were great on the run up to the day and made themselves available for calls whenever we asked for it. On the day itself the team were so attentive throughout and made sure our guests were well catered for.
We would 100% recommend and would love to use their services again!
I was asked to arrange some catering for our head office meeting last week and with most places closed or having very strict rules, we came across your catering company and we're so glad we went with you. The Big Boss was very impressed, he has asked us to keep your company on file for future events. Thanks for the brilliant service.
After much shopping around for a wedding caterer- Spitting Pig Kent was the answer! He accommodated and went above and beyond. He understand the Bride's needs, communicates, and listens well. His catering staff is professional and friendly. The food was amazing and Spitting Pig Kent was able to make recommendations to piece together the perfect menu. I would use Spitting Pig Kent again in a heartbeat.
Spitting Pig Kent just catered my Mom's Celebration of Life. It was perfect in every way and the food was excellent. Everyone invited thought it was the best hog roast they'd ever had. Thanks, for your attention to detail and wonderful presentation. My mom would have loved it!!
The Spitting Pig Provided the catering at our Christmas Party and it went down a treat with all employees. All kinds of meats were on offer from Turkeys to Minted Lamb along with the traditional  Spit Roasted Pig!!!
They were totally flexible in working with what we had in mind rather than a "set menu". Absolutely will use you guys again for future company events.
Hellooo
Sorry for the late feedback the last week or so has been insane!
Just wanted to let you know how amazing everyone thought the food and the service was for our wedding 😊. Everyone keeps telling us they thought the food tasted amazing and there was plenty of it! So thank you for helping make our wedding day perfect!!!
Matt and Josh were allocated our little bash. How lucky were we were. Such a great pair of lads, when they arrived, I thought I'd met the 2nd row of a rugby team. They arrived, quietly went to work, set up and proceeded to produce some of the best party food I've ever tasted. We kept it simple, pig and chips but it was perfect for the informal gathering we had. Once everyone had eaten, they cleared up and left their patch just the way it was, you would never have guessed that they had just served 80+ meals.
When l cleared up afterwards, I found nothing but clean plates. Everyone was highly complementary regarding the catering, that was mainly down to Matt and Josh. If they are typical of the service you offer, l would be happy to recommend Spitting Pig to anyone considering a hog roast.
Good Morning,
I would just like to send on my heartfelt thanks and respect to Jake and co. (Sorry forgot the other chaps name) for all their hard work and fantastic spread ,they did you proud. They were efficient ,friendly  and worked like little trojans.
We will certainly recommend you to anyone that needs caterers.
Thank you all once again for a job well done.
I'd like to say a massive thank you to Andy and Matt for Saturday, they did so well regardless of the heat! Everyone absolutely loved the food and commented on the quality of it!
We had lots left over which was great as I didn't really eat much on the day, loved the chicken. So glad we went with you guys so thank you. Food is such an important part of the wedding and they smashed it!
I just wanted to send you a quick note thanking you for all your hard work, the delicious food and friendly smiles all part of a great recipe for a very happy day.
We had the meat platter as a starter, I added melon and hummus along with sliced up sourdough bread, which allowed something for the vegetarians/ vegans.
The main course was shredded pork and a selection of salads and breads along with a vegetarian/ vegan option. When we were researching food options ,We chose you as you offered to serve your course on china plates (so much nicer than paper plates for a wedding breakfast) these were then cleared and taken away by you.
The guests were very complimentary about your food and there was even lots left over. I wish you every success with your business and would certainly recommend you.
I just wanted to say a belated thank-you for all your efforts at our wedding last month, we really appreciate it.
All of the food was fantastic, everyone has been saying g how much they enjoyed it. My only regret is that, as the groom, I didn't have much of an appetite on the day!
Spitting Pig ….wow!
What can I say, Jake and Will thank you so much for making my birthday such a special day. Very professional, helpful and two of the nicest guys you could meet. Everyone said  how great you were. The hog roast lived up to all our expectations, so tasty! You both went out of your way to make the day go smoothly, even explaining how to roast the hog  to get the best crackling. Thank you, already thinking about our next hog roast
I still can't believe how you cleared the site so well,  no one would know you had been there. Great service guys
We used Jake and his team to cater for a boys u10 rugby tour at a beach house we had rented, serving about 13 boys and 15 adults. Access had to be along Camber beach and that was well managed and no problem for the team, who set themselves up perfectly at the side of the house and everything ran like clockwork. The event was fantastic, well managed from start to finish and the food was delicious (including the left overs the following day!)
I cannot recommend Spitting Pig enough and will definitely be looking them up if we return next year.
Hi team,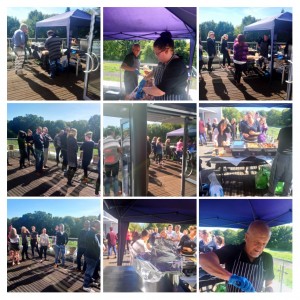 Would just like to say a huge thank you for putting on an amazing hot roast for our summer event today.  The food was gorgeous and your staff were professional and friendly and worked really hard to make the event a great success.
We will definitely be using you again for our summer event next year.
I would highly recommend Spitting Pig for events large or small – the catering team were fabulous and came in set up and very self sufficient the entire time. This allowed me as hostess to mingle with guests and not to worry about any of the catering at all. We had agreed a time for serving food and Sarah gave me a nod when this was ready to be executed. It ran very smoothly with guests coming and going as they pleased and we have a good variety of quality meats and vegetarian options, the gourmet sausages were a huge success and the only negative feedback was that I hadn't ordered enough – you would have thought 100 between 60 guests would have been ample but they were so good people wanted seconds and in some cases thirds!! I will certainly keep this in mind for next time!
It really couldn't have been any easier for me to organise and my guests are still raving about how good the party was and I am convinced this was down to the amazing food and service from the Spitting Pig Team.
I must say that the Hog Roast was excellent !
Lucy and Mat and all their friends absolutely loved it.
We thanked Sam for the amazing, mouth watering, delicious pig. The compliments were flying around that evening. Everyone thought that it was the best they had ever tasted, and that's including a couple who only had just come back from their honeymoon and had had a hog roast for their wedding reception. As for the crackling, which I don't normally eat, it was quite superb!
It was a wonderful evening and Sam and his mum Deborah, were really helpful and a delight.
We would certainly recommend and use you again.
We used Spitting Pig to celebrate the first day in our brand new office to make it a day to remember for the staff. The friendly catering team turned up early to get the meat cooking and we left them to it.
By lunch time the tables had been set up, salads prepared and meat carved without any noticing apart from the wonderful aroma. Lunch was a roaring success with loads of meat leftover for the following days and all staff were very appreciative.
Once all staff had had their fill the catering team cleared all away with the minimum of fuss and left no mess whatsoever. We will definitely be recommending them!
Thanks so much for your email, and your services for our Halloween party.
It was my first experience of working with you, and I have to say I was incredibly impressed.
You were easy to work with, flexible, punctual in sending estimates through and attentive to all our needs. We gave you a brief, you came back with 3 fantastic options to choose from.
We thought it was a wonderful touch that you researched and sent us all the information on Victorian food and Smith fields Market, reflected how enthusiastic you were to understand our theme and deliver a good job.
At the event, the food and service was excellent. The preparation and cooking was well timed, and the food was served to our guests on schedule.
All round good job, thank you to you all.
We just wanted to say a huge thank you to your guys for doing such a fantastic job yesterday. Everyone was absolutely raving about the food. They were so helpful and professional. They cleared up with such ease that I didn't even see the going of them!!
Please extend a huge thank you to Karen & Jamie from us – I know there will be some recommendations stemming from our experience of your company amongst our friends.
It was lovely, there was not a lot left as we put what was left out cold in the evening, it disappeared quickly.
Hog roast was organised at short notice, many thanks. It was tender, moist and delicious. Lots of the guests at our Daughters wedding commented on how lovely it was, plenty to go around, what was left was put out with the evening buffet and soon disappeared . It was nice to know that it was one less thing to worry about, all cooked and carved on time ! No fuss.
Even our dog got to enjoy the ears and some other bits and pieces, this was no trouble, just wrapped up ready for us to take home !
We would like to thank Anthony and his team for all there hard work in making our wedding day memorable with a beautiful hog roast.
The food was absolutely delicious all our guests have commented on how tasty the food was and everybody went back for seconds.
Anthony and his team not only provided fabulous food but the service was outstanding. Thank you to the whole of Anthony's team. We would highly recommend Anthony to cater for any special event you are looking to cater for.
He is professional reasonable in price and the food and service is of the highest quality and standards. Thank you Anthony for catering for our wedding.
On the 9th of June Anthony catered for me at my charity fundraising music festival Wild Things Woodland Party. Not only did he give me an amazing charity discount but he was an absolute pleasure to work with. Anthony was very understanding and flexible when dealing with tricky logistics caused by mud and rain, while setting up the hog roast he also helped me and my team with catering issues we were having for the other meals at the event! The roast was delicious, and when it was time for him to leave he sliced up the rest of the leftovers, gave us lots of extras and showed my team the best way to keep and serve them. By the end of the evening we had totally sold out of the delicious food he had brought us! I would certainly recommend his services, he was 5*!
Graham and I just wanted to thank you so much for helping to make Charlotte's 21st birthday party such a success.
You and Emma were brilliant and your whole set up was so professional, we certainly won't hesitate to recommend you to others.
I thought you ought to know there were 73 people there – so more than we had anticipated and everything went so smoothly – we are so glad we decided to go with you.
Charlotte had such a wonderful time too – a party she will always remember so thanks to you and Emma again.
Me and Francia would like to thank you and your colleagues for all your hard work on Saturday 3rd March. We had a wonderful day and everyone commented on how great the food was. I hope that my friends and family didn't give you too much abuse in the queue! You eventually managed to shut them up anyway even if it was for only 30minutes!! Trust me, this isn't an easy feat!
We will definitely recommend your services to anyone who is considering a hog roast.
We wish you all the best in the future.
I just wanted to drop you a quick email to say thank you for a wonderful service.
The hog was cooked to perfection and everybody that attended the party commented on how fantastic it was.
Your chef (Steve) was a great guy, always making time to have a chat with the guests whilst serving the hungry crowd. Please pass on my thanks and regards to him.
We had a small party the following day and managed to feed everyone with the remaining meat as there was still a huge amount left over.
I will have no hesitation in contacting you again should I need another hog roast.
Thanks again.