Getting married is among the most exciting (and stressful!) things a couple can do, and at Hog Roast Kennington, we are always thrilled to be included in these very special occasions. In fact, we love weddings so much that there's not much we wouldn't do in the name of love, and after being asked to cater for an intimate ceremony last weekend, our team made the hour and a half long road trip to Ashford's idyllic Crown Lodge.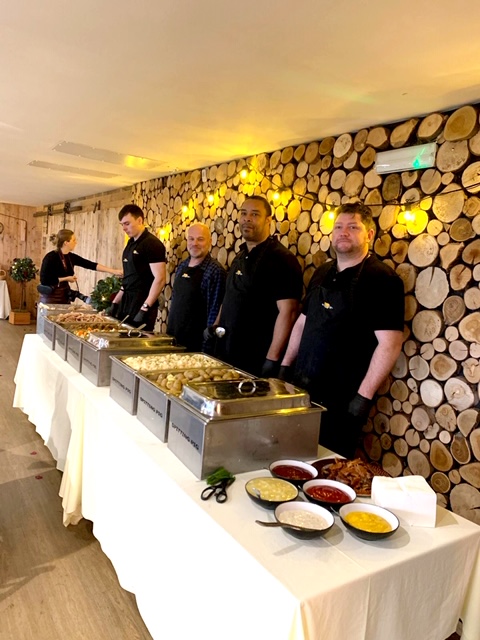 With the Wye Downs providing a picturesque backdrop to the cosy, yet airy venue, the couple could not have picked a more perfect location for their wedding. Even with the rain lashing down, the place looked like something that had been plucked straight from a storybook, and inside, the Hog Roast Kennington team began working on the afternoon meal before the wedding party of 60 arrived.
Following the lead of our catering manager Jake, the team expertly slow roasted the locally-sourced pig over a low flame and whipped up generous platters of homemade sage and onion stuffing and applesauce accompaniments before turning their attention to preparing a medley of seasonal veg, and fluffy roast potatoes. With the main meal under control, they dressed the tables (which had been named after different countries) with white tablecloths, woodland-inspired centrepieces and adorable, miniature vintage luggage wedding favours which the lovebirds had hand-chosen for the occasion.
When the happy couple made their grand entrance early that afternoon, Jake was just getting ready to carve up the golden hog, revealing an irresistibly juicy centre that the guests were shamelessly drooling over! Unable to resist waiting any longer, everyone queued up to fill their plates which they eagerly polished off before hitting the dance floor.
While everyone was enjoying the lively atmosphere, Hog Roast Kennington fired up the Hogmaster once more, and using our handy BBQ catering machine attachments, the catering crew effortlessly prepared a feast of sausage and bacon rolls with a selection of condiments for the evening guests.
We're ecstatic to announce that the food went down a storm (pun not intended!) with the guests, and the newlyweds couldn't have been happier with the service our team provided!