Hog Roast Walmer's latest corporate catering event was booked by Harry and it was very special indeed! The Elephant and Hind pub in Dover wanted a tasty meal for 50 guests. These lucky people were team members at Dover Rugby Football Club, which is the team that The Elephant and Hind sponsor.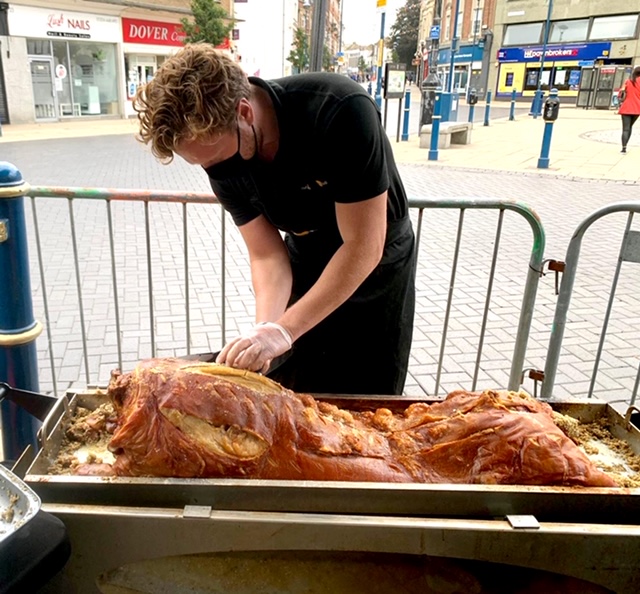 The Dover Sharks RFC as they're affectionately known to the locals, had a senior staff training day elsewhere and then arrived at the pub in the evening for a team bonding meal. This meal was a delicious buffet that had been put together by Catering Manager Jake from Hog Roast Walmer, and it was served at 7pm on the dot.
The menu for the buffet was carefully chosen in order to ensure that the sporting men and women got a tasty treat as well as a healthy one. The main attraction at the buffet table was the Classic Hog Roast. The slow spit roasted pig was served with crispy crackling, homemade sage and onion stuffing and optional tangy apple sauce. There was also exciting vegetarian and vegan options available. For the vegetarian choice there was perfectly grilled vegetable and halloumi skewers; for the vegan selection there was plain grilled vegetable skewers that delivered both good taste and good nutritious value. Finishing off the buffet was a big platter of mixed normal and sweet potato fries and a basket of soft gluten free rolls.
With a serving time of 7pm Catering Manager Jake arrived at the pub around 1pm. This gave him plenty of time to set up the cooking equipment and begin the food preparation. Every single dish was created fresh by Jake before the event, fortunately there was plenty of outdoor space for him to work and he managed to deliver the exceptional buffet for exactly the right time.
The Dover Sharks RFC dived into the buffet when it was served, they loved all of the delicious foods that had been prepared just for them. The evening bonding of the team was a wonderful success and the team from Hog Roast Walmer were delighted to have helped the occasion go off without a hitch.