It's that time of year again when people up and down the country start to consider their options for academic study for the following year. Lots of this research involves visiting different college campuses in order to find out how you feel about attending the college. Hog Roast Petham'S latest event was at just such a college event.
The team were contacted by the college about catering a light buffet for the 150 expected guests. The buffet would need to run from 7-8:30pm and have lots of tasty treats for people to enjoy as they went on a tour of the campus. The Hog Roast Petham team were easily able to meet the event brief and reassured the client that the buffet would be what they hoped for.
The buffet was set to be prepared and served in the large canteen space the college possesses, so the Catering Manager and two assistants arrived at the college several hours before the start of the serving time. They set up their cooking equipment and got straight to work, every single dish for the buffet was made by hand leading up to the serving time.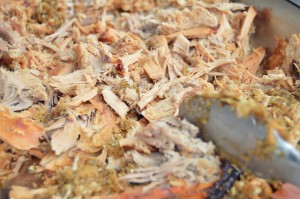 As part of the catering package that the client selected, the Hog Roast Petham team provided the use of crockery and cutlery. The client had a choice of three options, there was: china crockery and silverware, bamboo crockery and cutlery or finally, disposable crockery and cutlery which the team would dispose of at the end of the catering. The clients opted for the disposable crockery and cutlery, feeling it would give the guests greater freedom to move around the canteen space with their food without worrying about potential breakages.
The buffet was a sight to behold, not only did it have a Classic Hog Roast complete with crispy crackling, stuffing, apple sauce and soft gluten free rolls. But there was also lots of fresh grilled vegetable skewers, BBQ pulled jackfruit and a mountain of skin on potato wedges.
Once the open evening was underway the buffet got lots of attention and feedback from the event showed that the potential students loved it! The clients and the team were left feeling very satisfied that the night had been a success.