Whether it's a private family party or a prestigious corporate function, you can always trust Hog Roast Lenham to provide an unforgettable experience, no matter how many people you've got on the guest list. Thanks to our cutting-edge equipment and high-quality ingredients, our team can consistently deliver both authentic and delicious menus that suit every occasion; so you can be content with the knowledge that your event is always in the best possible hands!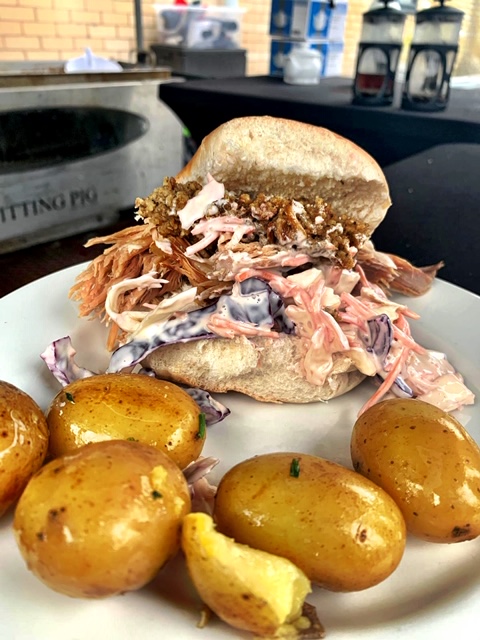 Recently, the Hog Roast Lenham catering crew found themselves assisting established media consulting agency, Mostrata with an outdoor event they had planned for earlier in the month. With up to 50 people set to attend the extravagant celebration, the client was looking for an inclusive menu that would provide their guests with a high-class experience – and catering manager Jake knew just the menu to recommend.
The corporate hospitality menu 4 offers our clients a more formal indoor or outdoor feast that is comprised of a meaty main course, gluten-free rolls, mouth-watering sides and a delicious veggie alternative which are all served on China crockery and cutlery. However, on this occasion, the Mostrata team decided against having lots of side dishes and had instead asked us to serve a drinks buffet which consisted of tea, coffee and chilled soft drinks.
When the day of the event rolled around, Hog Roast Lenham arrived at the industrial site with plenty of time to spare before lunch was scheduled to be served, and under the protection of the catering gazebo, they effortlessly spit roasted the whole pig. As the meat turned a gorgeous golden colour, the team began piecing together the vegetable and haloumi skewers which they grilled and served with flatbreads and tzatziki dip for the vegetarian and vegan guests. Before long, the guests began arriving and as they took in the scents of the aromatic food, the catering crew added the final touches to the buffet by pouring out the drinks and serving the coleslaw and potato sides.
The tea and coffee was a welcome addition in light of the chilly winter weather, and the food itself was a huge hit among both meat lovers and veggie enthusiasts alike which had many people enquiring about our business cards by the end of the event.