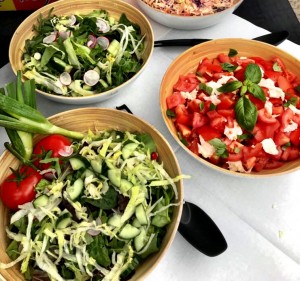 When Angela asked Hog Roast Enfield to provide some lovely food for a garden party in the local area, it was for our Private Party Menu 3, which features a hog roast centrepiece and warmed new potatoes, as well as your choice of a selection of fresh salads or vegetables. We can actually cater with a huge variety of food – we have a much bigger selection than you might imagine – and we even encourage you to devise your own menu if preferred, but in this instance, our customer knew exactly what she wanted for her 60 guests.
Here at Hog Roast Enfield, we care about your needs when catering a party or event, and for Angela's informal garden party, we would be providing a slowly-roasted pig covered in salty, crunchy crackling, together with our own homemade, tangy apple sauce and our homemade, classic sage and onion stuffing, as well as a mixture of bread rolls and wraps so that Angela and her guests could all enjoy scrumptious pigs in buns. The addition of our herby new potatoes and, in this case, several salad dishes rather than seasonal vegetables, would mean plenty of food to go around for everyone. We always bring along a selection of condiments and lots of napkins and the food with this menu is served on disposable crockery.
On the day of the garden party, Hog Roast Enfield arrived at the home venue in the morning to start preparing the locally-sourced hog and to set up our equipment. Once the gazebo was up and the serving station was ready, we prepared the meat for its roasting by scoring it, covering it in water and then massaging in a good deal of salt in order to produce the crackling. Then all we needed to do was set the temperature, turn the machine on and watch it sizzle away for hours; our hog roast machines really do most of the work for us.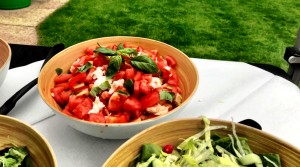 By 2.30pm, the hog had cooked beautifully and was resting while we got on with the rest of the food, including the garden-fresh salads and potatoes and it was soon time to feed all of the hungry guests.