It was drumsticks at dawn last Saturday when Hog Roast Deal were asked to provide one of our crowd-pleasing outdoor buffets for a local battle of the bands competition! The event organisers picked us over other catering companies because not only can we provide high quality, value of money food for a lot a people, we can also manage to make sure everyone goes home happy and well-fed, even if we are inundated with a lot more diners than anticipated! With events of this nature, last minute ticket sales and people just turning up on the day hoping to be granted entry, it is impossible to predict how many people will need to be fed. But the beauty of our style of cooking is a little bit of hog roast goes a long way and with one single Hogmaster machine being capable of cooking a 75kg pig, the event organisers we reassured that no one would go home hungry!
Another great thing about the Hog Roast Deal team's approach to catering, is that it allows us to feel truly involved in the event. Because we prepare everything fresh at the venue and we spend several hours slowly roasting our meat to achieve maximum succulence, we are always privy to watching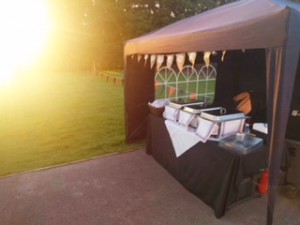 everything else that is happening throughout the day as it unfolds. We arrived at the outdoor venue at the same time as the crew who were setting up the stage, and whilst we were transforming our allocated marquee into an efficient kitchen for the day, they were transforming the other side of the field into a mini Glastonbury! Whilst our catering assistants were busy preparing the homemade (or more accurately field-made!) coleslaw and rosemary-infused new potatoes to accompany the hog roast, the band were carrying out sound checks and tweaking their performances during rehearsals. By the time the gates opened and the local music lovers flocked in, guitars were tuned, voices were warmed up, and the hog roast was perfect!
During the intermission, the crowd flocked to our serving table just as enthusiastically as they had flocked to the stage to hear the opening acts. Everyone enjoyed the local talent on stage during the night, and Hog Roast Deal were glad we could provide some of our own locally-sourced magnificent grub to keep the crowd coming back for more!