At Hog Roast Margate we are renowned across the UK for our classic British roasts. The hog roast of our name is obviously a long-standing leader in the British roast repertoire, and we also are masters of the delicious British beef roast, turkey, lamb, even chicken, as well as perfect golden roasties for soaking up all your meaty gravy and roast juiciness, and perfectly seasoned roast vegetables too –  a staple amongst any British Christmas roast. In this country we like to think of ourselves as the kings of the Sunday roast, and Hog Roast Margate just happens to have the best British roast around for your catered events. But if you move out West to the States there is a whole other world of roast brilliance to explore, and thankfully with Hog Roast Margate you can do just so without even needing to board a flight!
The American roast differs from ours in that tends to bring more spice and smokiness to the table. The American south is famous for its spiced roast foods, its large cookouts where the sides are king and great big ribs of meat are a common sight. The southern slow roast uses spice rubs for its meats, bringing a good kick and flavour to the likes of a roasted chicken, wings, drums, or sticky pork ribs and pork butts.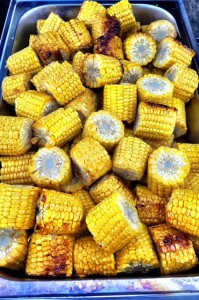 At Hog Roast Margate we have our very own version of this delicious smoky and spicy affair with our special Southern Slow Roast menu available for your events here in the UK. We marinate our premium-grade meats with our very own secret recipe rubs and slow roast them to perfection. We turn it on Texas style with our own 24-hour beef brisket, Louisiana style with our own fall off the bone sticky pork ribs. Enjoy our bbq pork butt, or our Cajun spiced whole roasted chicken, and bring it all together with our classic American mac, corn cobettes with warm butter, creamy potato salad, Memphis style crunchy slaw, and plenty of roasted veggies too. You'll be getting a punch of flavour and spice with this menu, and the best part is that you can enjoy it right here in the UK at your own events now!