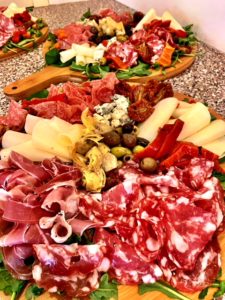 Welcoming a child into the world is a moment of unparalleled joy. And when sisters Rachel and Sophia welcomed their babies just a few months apart, they decided to take advantage of their shared happiness by planning a joint Christening celebration.
Choosing a spacious venue for the reception was necessary to accommodate their 175 guests, after which, the pair embarked on planning a memorable event that would bring family and friends together. And knowing that a hog roast would be perfect for feeding such a large and diverse crowd, they turned to Hog Roast Dover for a helping hand.
Hog Roast Dover's dedicated catering manager, Matt, stepped up to assist Rachel and Sophia in creating a dining plan that would cater to the tastes of their guests and elevate the celebration. After thoughtful consideration, they opted for the Hog Roast Dining Menu, a choice that would add an air of elegance to the occasion.
The dining experience began with charcuterie boards, which graced each table with a touch of Italian sophistication. These platters featured a tantalising array of Italian meats, cheeses, artisan bread, and sun-dried tomatoes, setting the stage for a lip-smacking spread.
The main attraction was, of course, a full-size hog, roasted low and slow to ensure the meat boasted the most exquisite flavours. As the guests gathered in the reception hall, Matt skillfully carved the succulent meat, separating it from the crispy crackling: the feast was on! Crackling, stuffing, applesauce, and tender pork were served on gluten-free rolls, satisfying the appetites of the guests.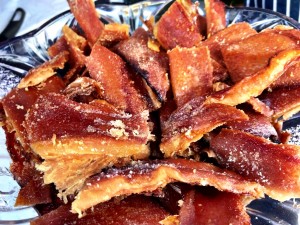 For the small handful of vegetarians and vegans present, grilled veggie and halloumi skewers provided a delectable meat-free alternative. The meal was elevated further with a side spread that included a vibrant heritage tomato and buffalo mozzarella salad, homemade coleslaw, a selection of seasonal leaves tossed with bell peppers and spring onions, and roasted new potatoes.
To sweeten the occasion, guests were invited to indulge in our dreamy chocolate torte and creamy cheesecakes, which brought the festivities to a delightful end.
Rachel and Sophia were not only thrilled with the outcome but also amazed at how hassle-free organising a Christening celebration had been, thanks to Hog Roast Dover. The seamless execution of their vision, combined with the delectable menu, made for a joyous and memorable day all round.