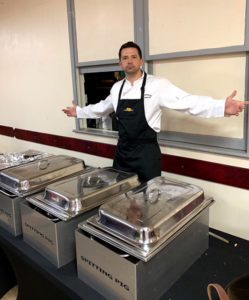 Recently, the Hog Roast Gravesend team were hired by Sophie for her event which she was hosting at the Gravesend Rugby Club in Gravesend, Kent. The food was served indoors along a professionally presented buffet table. All of the food was prepared and cooked on site to ensure that all of the food was really tasty. All of the ingredients were freshly bought from local producers for the buffet and team seasoned all of their ingredients perfectly to enhance the flavour of the food. The meat and hot sides were served in heated trays to ensure that food did not go cold.
The Hog Roast Gravesend team served Sophie's guests their Menu Four buffet which everyone seemed to really enjoy. A whole slow roasted was cooked in one of the team's Hog Master machines and was served with several classic sides including homemade stuffing, crispy crackling and apple sauce. The meat was also served with mixed salads, crunchy coleslaw, pasta salads and potato wedges along with a selection of sauces. A vegetarian alternative of lightly grilled vegetable and halloumi skewers which were served with pitta breads and Tzatziki dip was also served by the Hog Roast Gravesend team.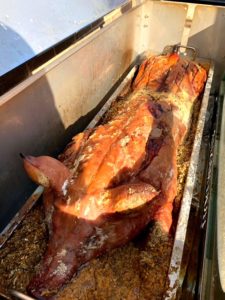 The Hog Roast Gravesend team served their buffet to 80 people, many of which returned to the buffet table for second portions. The service was led by the team's Catering Manager, Jake, who led a really smooth service. He was assisted by a new team member, Allun, who worked really hard and was really friendly to all of the guests. The buffet was served to 80 guests who were all very hungry at the point of the 7:30pm service time and so it was important that the team were really efficient in their service. The buffet looked stunning with the variety of colours from the salads and the whole roasted hog centrepiece. The team provided all of their own equipment and cleared away all of their waste discreetly after the service. Jake was really proud of the food and service that he and Allun delivered and was glad they could help make Sophie's event a success.