The unreliability of the British weather struck again this week, and our most recent clients came close to cancelling their event! Luckily the team from Hog Roast Sevenoaks found a way to help. We were first contacted by Alan, a father of two young boys. His eldest son Daniel was about to turn ten, and Alan wanted to throw him a lovely birthday barbecue and invite all his friends and family to celebrate. He'd organised for us to provide one of our famous Hog Roasts, as well as hiring a Bouncy Castle.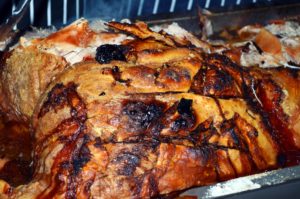 It was supposed to be a glorious day, but unfortunately, when the day of the event arrived, thick murky clouds filled the skies, and by the early morning it was raining heavily. We were due to arrive at the venue for 9AM in order to begin all the preparations, but an hour prior to the event, we received a phone call from Alan, saying he was going to cancel due to the weather. We spoke with Alan, an assured him that the event could still go ahead, explaining that we would bring along our gazebo, and cook outside, leaving space free inside for the guests, and only for the sake of a couple of hours extra cooking time.
Alan had agreed to go ahead with the party and by twelve noon, his guests had arrived and the hog was roasting. The chef from Hog Roast Sevenoaks was busy tending to the hog and preparing bread rolls whilst our catering assistant helped decorate the room with banners and rearranged furniture to create more space. Unfortunately there was no Bouncy Castle like there'd been planned, but the kids enjoyed other party favourites like pass the parcel as well as a Playstation tournament whilst they waited for their Pigs in Buns.
The Hog Roast didn't take long, and soon the children were queueing at the buffet, and our chef was serving them their food. Both the adults and the children loved the Hog Roast, and agreed that despite the rain and the change in plans, everybody had enjoyed themselves. Alan thanked the team at Hog Roast Sevenoaks for saving the party.