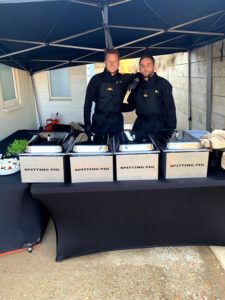 Recently, the Hog Roast Folkestone team were hired by Jeremy for an event he was hosting at the Suttons in Camber, right next to the beach. The service had a fantastic backdrop of the beautiful beach and rolling waves and was the perfect setting for the event. The Hog Roast Folkestone team also travelled the extra mile for this service as the chef, Will, had to drive along the beach with the Hog Master roasting machine in the back of his car in order to reach the unique serving location. The food was served as a buffet and was thoroughly enjoyed by all of the guests.
Jeremy selected the Hog Roast Folkestone team's Classic Menu, however, requested that the Southern Slow Roast menu meats were served instead of the slow roasted hog. The meats served to Jeremy's guests included Texan 24 hour beef brisket, fall off the bone Louisiana sticky pork ribs and BBQ pork butt. The meats were professionally carved by the team's chefs for the guests. A selection of classic sides were served alongside the meats including corn cobettes and Greek salads. The main meats were also served with bread rolls and wraps to encourage the casual atmosphere of the event. Yet, to ensure that buffet was still luxurious, the team served the food on wooden crockery.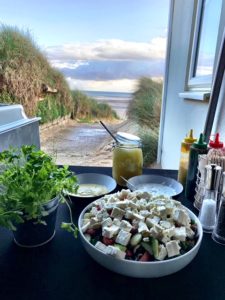 The Hog Roast Folkestone team served their buffet from 7pm onwards so it was important that the meats remained hot in the team's heated trays The service was led by the Hog Roast Folkestone team's Catering Manager, Jake, who was really proud of the service his team delivered. The service was catering for the under 10's boys rugby tour who were staying at the beach house they were renting. The service was for 13 boys and 15 adults who all really enjoyed the buffet food. The client was impressed by how efficiently the team set up their equipment outside of the house and thought that the service ran like clockwork. Jeremy was also really pleased with how the team managed the service and said he would definitely recommend the team and use them again!