If you let Hog Roast Folkestone cater at your next party or event, you can be sure of tasty, fresh, homemade food at a competitive price, served by friendly, experienced professionals who adhere to the highest standards. We love to help make special occasions even more special and when it comes to our food, variety and choice is absolutely key. While we cook a mean hog roast and delicious spit-roasted meats too, we can also do so much more for your event, regardless of whether it's a birthday party, engagement, christening, wedding or business function – or anything else in-between. Our food really is suitable for any kind of occasion that you may have in mind and we always go the extra mile to ensure that everyone invited can eat our lovely food.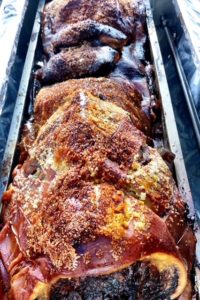 For Giles' 45th birthday party recently, he had a guest-list of 35 of his friends and family members who mostly wanted to devour one of our traditional Hog Roast Folkestone centrepiece hog roasts, but he also needed us to cater a vegetarian and a vegan. We've been doing so for a long time now so it is never an issue and we can also produce amazing dishes for other special diets too if needed. For this party, we would be making pigs in buns for 34 people and veggie skewers for both the vegetarian and vegan. For vegetarians, we usually make these yummy kebabs with halloumi cheese and fresh vegetables, but for vegans, we omit the cheese, and in this case, both guests would be able to enjoy the skewers that would be filled with garden-fresh mushrooms, sweet baby tomatoes, chunky pieces of courgette, colourful peppers and curls of red onion.
On the day of the birthday bash, our Hog Roast Folkestone chef and team members arrived at Giles' home in the afternoon. It didn't take long to set up our equipment and then prepare the meat to be roasted and then several hours later, it was ready to be carved while the skewers were being grilled to perfection and we were putting together all the fixings for the pigs in buns, including floury bread rolls, wraps, homemade apple sauce and stuffing, and plenty of condiments.
By 7pm, Giles was first in the queue to try out our truly scrumptious food.