When Jack and Edie contacted Hog Roast Faversham about their wedding feast a few months back, they had some particular dishes in mind from the start, including our pigs in buns for the main course. We always work together with our customers to create the perfect menu, even if you're not planning your wedding day, because we provide the same professional service and yummy food regardless of the event that you're thinking of organising. We have various menus for you to look through and we're even happy for you to mix and match items between menus if preferred.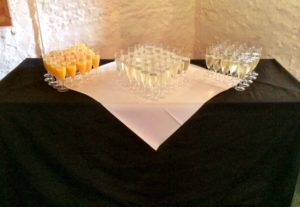 For their wedding day dinner, this couple wanted us to serve welcome bubbly and a variety of canapés as the 100 guests arrived, followed by a sit-down starter of tomato soup with croutons that would also suit the vegetarian guests. In terms of the canapés, some of those would be vegetarian too, and of course there would be a vegetarian main course served as well. We have a variety of alternative dishes available and for this function, Jack and Edie selected our veggie skewers. With tasty chunks of halloumi skewered next to fresh vegetables, they are a big hit with vegetarians and non-vegetarians alike. To finish off the meal, we would serve slices of the couple's wedding cake together with fresh berries and a coulis.
On the day of the wedding, Hog Roast Faversham arrived several hours before the guests would, so we could prepare the meat for its roasting. Soon enough, it was sizzling in its own juices, creating amazing aromas that would fill the air and becoming a wondrous sight that the couple and their guests would never forget.
Some time later and Hog Roast Faversham created some lovely handmade canapés, made a delicious tomato soup from scratch, and grilled the veggie skewers to perfection. Once we'd served the soup to the tables and the hog had rested, we carved away and filled trays with slivers of pork and piles of salty crackling, ready to cram into bread rolls to make the main course pigs in buns together with our homemade apple sauce and stuffing, and we let the happy couple and their guests know it was time to queue up for the main feature.