At Hog Roast Ickham, we aim to make our catering as accessible as possible, which means providing meals to suit a variety of allergies, intolerances, and dietary requirements. One of these requirements may be to provide event catering that is entirely meat-free, to suit the preferences of the guests in attendance. This autumn, our team catered for a private party for a group of friends, serving a menu that was entirely vegetarian. Here is how it went…
Sarah and her friendship group are meat-free, which can make it difficult to enjoy delicious catering when in a restaurant or café. The group meet regularly for gatherings, parties, and celebrations, including an annual meal to celebrate a joint birthday. To make sure there is plenty of food for the group to enjoy, Sarah chose to hire Hog Roast Ickham to cater for the event. After discussing dietary needs with our catering manager Matt, it was decided that we could provide a custom menu including a variety of delicious vegetarian dishes for the guests to enjoy.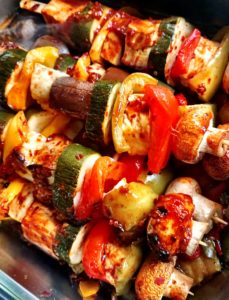 On the day of the event, the Hog Roast Ickham team arrived in the afternoon to prepare for the evening meal. For the main course, we served halloumi and vegetable skewers, as well as BBQ pulled jackfruit. Alongside the main dishes, we also served fresh bread rolls, homemade chips, and a selection of fresh salad options. This created a varied and nutritious meal for the guests to enjoy, with plenty of different dishes to choose from.
This menu was served buffet style to the guests, on bamboo plates and cutlery, which was the perfect level of formality for the event. Our catering was a wonderful addition to the evening and we had lots of fun providing this different kind of catering!
Whatever style of catering you prefer, Hog Roast Ickham have a menu that is perfect for you! No event is too big or too small for our team and we can cater to a variety of formalities and themes. To find out more, simply let us know your party size, date, and location and we can see what we can do for you!