Here at Hog Roast Gillingham the summer months mean one thing- wedding season. It is at this time of year we find ourselves lucky enough to be booked back to back for weddings up and down the country. Our expert catering teams are well versed in the art of wedding catering and can help to make your special day even more perfect. No matter how many guests you have attending, we can cater to both intimate gatherings with a handful of family and friends or to grander occasions with hundreds of guests. What we like to emphasise here at Hog Roast Gillingham is that what is most important is that it is your day and you are able to enjoy it. That is why we work with both the bride and groom closely to ensure we stick to your wishes and leave no detail for you to stress over- our teams take care of it all!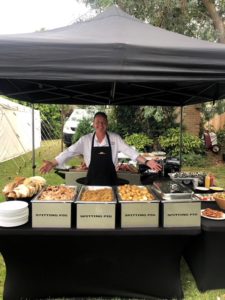 This week Hog Roast Gillingham catering manager Jake was busying getting prepared for the wedding of the future Mr and Mrs Jackson. The lovely couple had booked us to prepare our wedding menu three for them and their wedding guests at the stunning St Thomas of Canterbury Church in Rainham, Gillingham. We had been briefed that we would need to prepare food for approximately one hundred and eighty guests which would include both vegetarian and vegan guests and those requiring gluten free options. This was by no means a problem and Jake worked with the bride and groom to help design their menu for the day.
When guests arrived at the venue, we began with a welcome drinks service followed by canapes of the couples choosing. After guests were seated and toasts complete, we proceeded with serving up the main course- a Hog Roast Gillingham buffet complete with all the trimmings. We had brought along some gluten free bread rolls and for the non-meat eaters we had some delicious Grilled Vegetable Skewers, Served with Pitta Breads and a Tzatziki Dip to which halloumi could be added.
Once everyone was served, we began to discreetly tidy away as guests enjoyed slices of the wedding cake. Congratulations Mr and Mrs Jackson, we wish you all the best as you begin your married lives together!