This weekend the team at Hog Roast Herne Bay were excited to be catering for one of our most loyal clients over the past few years, George. George had hired us for many events in the past from his grandchildren's christenings to wedding anniversaries and family parties, he had even hired a couple of our machines in the past as he enjoyed trying new things. Due to this we really felt like we had become close friends with George and his family having been at all their get togethers over the past few years which was why when we heard it was Georges' 70th this weekend we knew we really had to outdo ourselves to give him something special to help the family celebrate and we knew a Hog Roast Herne Bay would be just the trick!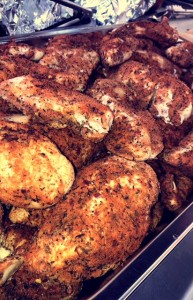 Our southern slow roast menu is a firm favourite of Georges, so we knew exactly what to prepare. BBQ Pork Butt marinated in one of our secret recipe rubs and packed full of juicy flavour. We also added Cajun spiced roast chickens and fall off the bone Louisiana sticky ribs for good measure. Not forgetting the sides, we prepared our own delicious coleslaw that our chef lovingly prepares along with corn cobettes slathered in butter.
When serve time arrived the guests could not get their plates fast enough! After all they had been watching us cook the food for several hours now and many said the smell of our Hog Roast Herne Bay had been driving them crazy. Once everyone had been served we made sure to go and wish George a very happy 70th birthday. He said of all the Hog Roasts we had prepared for him and his family, we seemed to outdo ourselves every single time and said this had been the best yet!
Pleased we had done George proud we began to pack up as we always do, leaving no cleaning up for any of our guests and making sure any leftovers are left for the client. Its these little touches that mean customers like George return year on year and we wouldn't have it any other way!