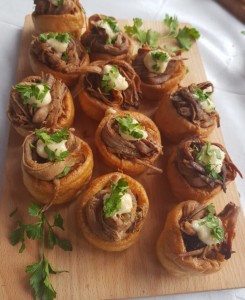 The Hog Roast Canterbury team spent a very pleasant day catering in the quaint and tranquil Lower Hardres Village Hall for a wedding reception for 80 people! The bride and groom had chosen one of our vibrant and varied wedding menus with plenty of delicious flavours and tempting options to delight all of their guests!
It was a lovely sunny day and light flooded into the bright and airy function room as we were setting up. As always, we arrived several hours before the reception was due to start, as we make every item on our menus from scratch, regardless of how many dishes we are preparing. We couldn't wait for the guests to arrive, so we could wow them with our versatility-not only with our elegant and interesting menu, but also with our ability to cook indoors for a smaller party just as well as we could outdoor for huge ones!
In charge of the proceedings for the day was Head Chef Vicky, a highly experienced wedding caterer and hog roaster extraordinaire! Vicky kept everyone busy throughout the morning preparing our 5 different canapes selected by the bride and groom, including smoked salmon and mini beef and Yorkshire puddings, whilst she tended to our classic hog roast and whole smoked salmon for the main course! The vegetarian guests also had a treat in store-our signature veggie skewers and quiche for the main course, accompanied by a plethora of side salads and roast potatoes which they could enjoy along with everyone else!
When the wedding party arrived, Vicky and her capable crew were ready to greet them with our delightful canapes and a glass of bubbly. As everyone raised their glasses to the happy couple and got settled for the main meal, Vicky was expertly carving the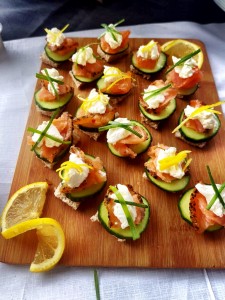 slow-roasted pork and dressing the salmon, working in perfect tandem with our catering assistants who were putting the finishing touches to our tangy mozzarella and tomato salad and creamy coleslaw! All of the guests absolutely loved the food and complimented us on how tasty and well-presented our complex wedding menu was! We weren't quite done yet though-for the crowning glory of our sophisticated spread, we dazzled the diners with our decadent chocolate torte and our own take on summer pudding! Even those who said they were already full couldn't resist trying our desserts and everyone enjoyed them as much as the other courses!
It was a lovely reception in a pretty setting and a huge triumph for Vicky and the rest of the Hog Roast Canterbury team!