The property market of today is not the easiest of markets, so more and more people are looking at alternative ways to get people in to view their homes and hopefully put in an offer. This weekend Hog Roast West Malling were asked to come and cater at Anna's open house event!
Anna is a local West Malling estate agent and has run multiple open houses in the past and told us that she finds one of the best ways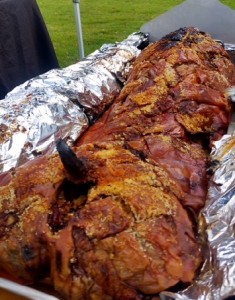 to get as many people in to view the property is by hosting a delicious lunch for guests as they explore the property. For those who don't know, an open house event is where an estate agent opens up a property on a certain day and invites numerous potential buyers in to view the property within a short time-frame of just a couple of hours. This way of selling and advertising a house has plenty of benefits, it gets more people through the door than just advertising alone and puts less pressure on potential buyers as they are free to view the property in their own time. Anna also let us know that in the past one of her key selling points in inviting clients was the lunch buffet and she felt that Hog Roast West Malling would fit the bill for this weekend event perfectly!
Our Hog Roast West Malling team turned up on site at the renovated farmhouse to get cooking underway so that when the clients walked through the door they would be greeted with a delicious aroma of a Hog Roast West Malling cooking away – which Anna hoped would encourage them to stay longer and maybe even put an offer in! On today's menu, we had a traditional slow roasted hog which fitted in perfectly with the house being on an old farm in the countryside. With everything set up all we had to do was wait for the buyers to arrive…