A delicious hog roast, live music, sparklers and your friends and family all under one roof for a fun-filled night at one of the world's leading hotel chains – what more could anyone want on their birthday? Well, unbeknownst to birthday boy John that's exactly what he was in for courtesy of his loved ones who knew they couldn't let his 80th slip by without making a fuss over him. With less than a few weeks before the big day, John's family began planning for the monumental surprise party right under his nose with the help of Holiday Inn Ashford North's resident events planner, Liz.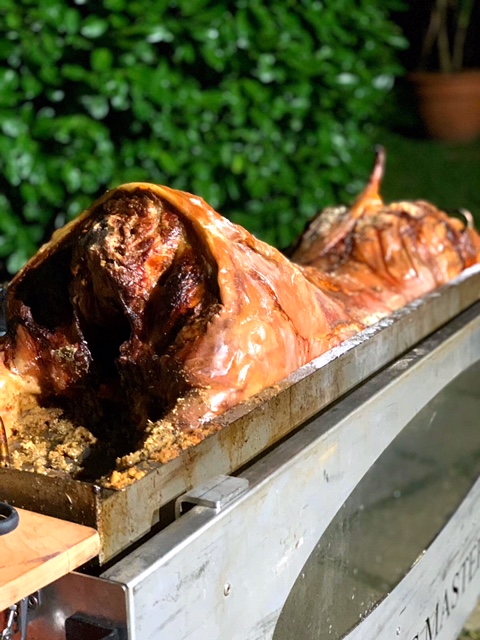 After an overwhelming majority of the guests showed their enthusiasm for a hog roast buffet, Liz got in touch with Hog Roast Tenterden who needless to say, immediately had them covered. With catering manager Jake handling one of the most important parts of the event, Liz and the family immediately felt relieved and when he recommended our private party menu 3 which features a trio of freshly prepared salads, a potato dish and a whole roasted pig with all the good stuff – they were sold!
On the day of the surprise party, the catering team made their way to the venue where they were welcomed through to the main function room and with time ticking by they threw themselves into preparing the highly-anticipated spread. It wasn't long before the whole pig was sizzling away on a bed of our delicious stuffing which left them plenty of time to toss the salads and create a few of our signature sauces. For Hog Roast Tenterden, it's important that our clients and their guests feel welcome and included and so in addition to the meaty feast, they also whipped up some vegetarian and vegan-friendly skewers using chunks of grilled vegetables and bite-sized haloumi which paired nicely with the yummy side options.
When John arrived fashionably late to his party, the surprise on his face was as plain as day and with the DJ taking care of the tunes and Hog Roast Tenterden in charge of the food, he and his guests were able to relax and enjoy the special occasion in all its glory.