As the UK's number one trade kitchen supplier, Howdens Joinery is always looking for new ways to up their game and entice their client base; and with the chilly autumn weather dampening people's spirits, they came up with a plan to organise a traditional hog roast for the staff and customers to enjoy. As the business development manager for the store, Keely was placed in charge of finding a catering service for the event, and luckily she was soon pointed in the direction of Hog Roast Swanley.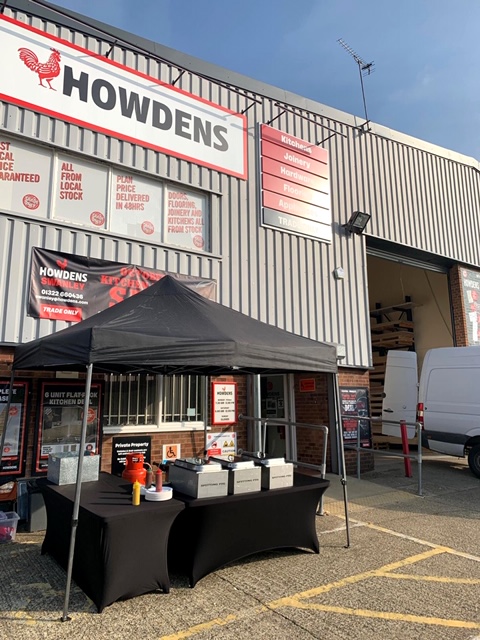 After picking up the phone and calling our helpful customer service team to discuss the variety of bespoke packages we have to offer, Keely was put through to our catering manager Jake who helped her to finalise the details of the event and decide on our classic hog roast menu which offers the perfect soul food for this time of year. Relieved that the catering was in good hands, Keely was able to return to business as usual while Jake and the team worked behind the scenes to ensure every detail of the event ran smoothly.
The sun was shining last weekend when Hog Roast Swanley found themselves travelling to the local Howdens warehouse which is tucked away in Moreton Industrial Estate on London Road. With plenty of space surrounding the store, the catering crew pitched the gazebo at the entrance and using our lightweight and easily portable equipment, they threw themselves into cooking up a feast for the 100 guests.
Banding together, Jake and the Hog Roast Swanley team effortlessly created a buffet of slow roasted whole pig with all the trimmings including our extremely popular savoury stuffing, crispy crackling and applesauce accompaniment which passers-by couldn't help but stop and drool over! When the feast was finally ready to be served, the guests queued up to fill their plates with generous helpings of pulled pork and succulent cuttings of meat which worked a treat to brighten their day.
The hog roast was the perfect pick-me-up that the guests were in search of and with plenty of the flavoursome meat to go around, no one was left hungry!