Shortly before Guy Fawkes Night, Johnny approached our team at Hog Roast Hersden to book one of our fabulous feasts for an event he had been planning as a surprise for his long-term girlfriend, Angela. As always, our catering manager, Matt, couldn't wait to help the client out with his secret celebration, and right away, the pair set to work narrowing down menus for the occasion.
After discovering that the venue for the event was going to be Johnny's parent's farm in a nearby village, Matt had recommended our Classic Hog Roast menu, with hot dogs and beef burgers included as a little extra to give the guests more options to choose from. Johnny loved this idea and decided it matched perfectly with his vision for the night.
When Hog Roast Hersden arrived at the event location on the 5th of this month, the team were in awe of the beautiful landscapes that surrounded the farm. For as far as the eye could see, there were burnt orange hillsides, thick forests of rust-coloured trees and low-hanging fluffy peach-toned clouds that only grew more vibrant as the evening rolled in. The setting alone was stunning, but Johnny had gone to extra lengths to make the night even more memorable. Pulling out all the stops, the client had rented out candyfloss and popcorn machines and had even built a large bonfire for everyone to sit around and watch the fireworks.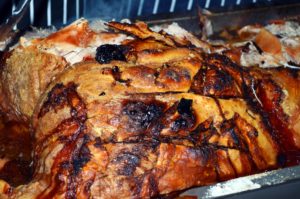 In preparation for the 30 guests arriving, Hog Roast Hersden worked on slow-roasting the pig, which was later served with crackling, stuffing and applesauce on gluten-free and wholemeal rolls with a seasonal mixed salad side, deliciously crunchy coleslaw and herb dressed new potatoes.
Perched on the wooden logs around the bonfire, the guests hungrily wolfed down every morsel of the delicious food, and when the atmosphere was at an all-time high, the reason Johnny had planned such an elaborate event soon became clear. As fireworks burst into a rainbow of colour overhead, and the flames from the bonfire danced in the background, Johnny got down on one knee and asked Angela the biggest question of all…
She said yes!