Whilst most brides opt for more traditional shades of white and ivory for their wedding dresses, colourful hairdresser Rachel wanted a much more vibrant colour scheme for her wedding and wanted everyone, including herself and her husband to be Anthony, to be adorned in as many colours as possible! She also wanted an equally colourful and vibrant menu for her reception and after viewing Hog Roast Hawkinge's tempting and varied wedding packages she decided we were the perfect catering company for her wedding celebration!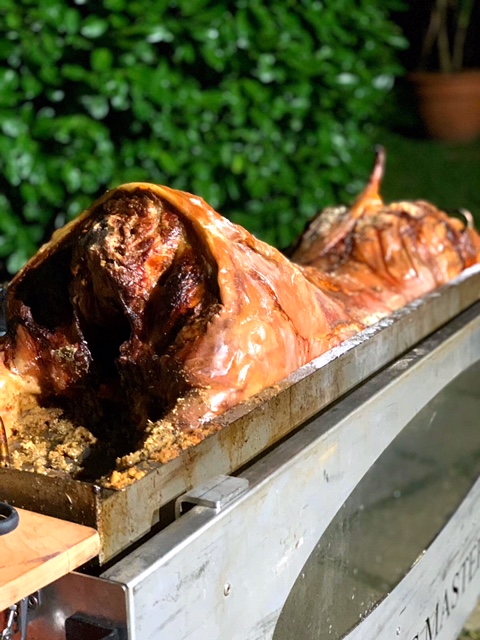 The couple had great fun choosing their menu for their 150 guests, which included a traditional hog roast served with all the trimmings, as well as a colourful array of side dishes, including crispy Thai salad, tomato and basil and creamy coleslaw – with a vegan option for her 5 guests with this dietary requirement. They also chose grilled veggie skewers for the meat and dairy-free main, along with pitta breads and tzatziki dip, complete with regular and gluten free bread rolls and wraps, all served with sweet potato wedges and a selection of sauces!
The bride and groom also wanted a canape welcome reception and  chose a mouth-watering selection of Peking duck wraps, dim sum, mini  gourmet sausages, smoked salmon and mini pizzas! With a very tasty and of course colourful menu to look forward to, Rachel and Anthony couldn't wait for their big day!
After spending several hours at the multi-coloured venue making everything from scratch using the bets locally sourced produce available, the Hog Roast Hawkinge team were ready to greet the very vibrant wedding party at 2pm sharp! The ambiance was as upbeat as the outfits and all of the couples' friends and family had a great time celebrating their wedding! When Rachel came to speak to us after the meal (wearing a very striking red and green dress!) she told us everyone had had a lovely day and she thanked us for our fresh, flavoursome menu and friendly efficient service from start to finish. Rachel got the colourful wedding reception she wanted and thanks to Hog Roast Hawkinge, the ideal menu for her big day!