Our Hog Roast Dover chefs love to show off their culinary skills and when it comes to catering special occasions, that is the perfect way to do so. We have all kinds of different dishes on offer, and not just our scrumptious hog roasts, and you'll surely be surprised at the amount of variety we give you and your guests. Whether you fancy a hog roast or spit roast, a barbecue or even a meat-free option, we can easily satisfy the hunger of all your guests and not just most.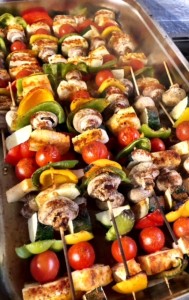 We've spent years perfecting the hog roast and ours are loved by many but we always make sure to have plenty of other options for those people who prefer something else or who need to eat something else due to dietary restrictions. You could have lamb, beef, chicken or turkey at your party or event, or perhaps barbecued burgers, ribs and gourmet sausages. For vegetarians, we have homemade options such as veggie skewers or burgers, mac and cheese or stuffed vegetables, and we can even make them vegan if needed.
When it comes to some diets, you may not think we'll be able to assist you, but we certainly can. For a party that we catered in the local area yesterday, the main course to be served was our pigs in buns – moreish, heavenly delights that we create after cooking a hog from scratch for hours on end at your venue – but we were also asked to cater a gluten-free diet. With Hog Roast Dover, you can easily impress your gluten-free guests if they fancy a hog roast, as with us they can eat the same as everyone else, just with special bread rolls instead, as everything else is suitable.
For Diane's garden party at home, Hog Roast Dover arrived yesterday morning, excited to prepare and roast a hog for her and 35 guests. Once it was sizzling away, we could relax and watch over it, but before we knew it, we were getting our homemade apple sauce and sage and onion stuffing ready, slicing the bread rolls and then ensuring everyone had seconds or more of our amazing hog roast rolls.