Hog Roast Cranbrook recently helped our customer Scott to celebrate a recent big promotion together with his friends and family members, where he treated his guests to our tasty pigs in buns. We've spent years perfecting these moreish delights, which you may know as hog roast rolls, where we roast a local, high-quality hog for several hours, until we get a browned crispy outside, full of salty crackling, and moist and tender morsels of meat on the inside, which just melt in the mouth. Once we've carved off the crackling and sliced up the meat, we cram bits of both into fresh bread rolls (or wraps if you prefer), add a dollop of homemade apple sauce and a mound of sage and onion stuffing, another of our own creations, and there you have it – pigs in buns made Hog Roast Cranbrook style.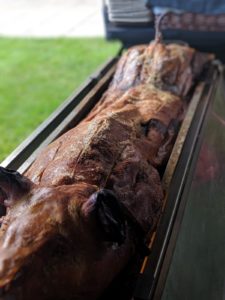 When we first spoke to Scott about catering his private party, which he was hosting at home in his back garden, he also asked us for additional options to be served. We can provide a wide range of food for any kind of event or party, from handmade canapés to hot or cold sides to homemade desserts and much more, and we can help you to devise your own menu of multiple courses if needed. For this particular special occasion, however, in addition to the pigs in buns, we would be serving our special coleslaw, an avocado and cherry tomato salad and spicy sweet potato wedges. No one would go hungry at this feast!
On the afternoon of the party, our Hog Roast Cranbrook chef and catering assistant made their way to Scott's home and set up our equipment in the back garden. Before long, we had a medium-sized hog sizzling in its own juices, which it would do for hours on end.
By 6pm, all of Scott's guests had arrived to the amazing aromas of the traditional hog roast, and many licked their lips in anticipation while we prepared the garden-fresh salads and finished cooking the wedges and then finally, we let everyone know it was time to enjoy lots of fabulous food.