The Hog Roast Broadstairs team found ourselves back on familiar territory last Sunday when we returned to a tennis club we had catered for previously for the French Open Final. This time it was the one they had all been waiting for-Wimbledon! And they were all just as excited to see us back at their HQ after they enjoyed our food so much last time! With the weather being so good they decided at the last minute to have their gathering outside in the sunshine. We were fine with this change of plan of course, as cooking indoors or outdoors makes no difference to the quality of our food! This time they chose one of our traditional hog roasts served with all the trimmings, accompanied by seasonal vegetables and rosemary and garlic infused roast potatoes. Classic flavours for a classic sporting occasion! They also wanted us to be ready to serve as the match was starting, rather than at the end- after witnessing the longest semi-final in Wimbledon history, they had no idea how long the match could go on for, and also last time when we were cooking during the match, the tempting smell of the meat was distracting the tennis fans from what was happening on the court!
Not wanting the cause any distractions, however pleasant they may be, the Hog Roast Broadstairs pair arrived bright and early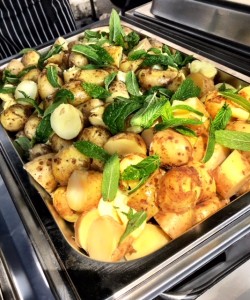 to allow plenty of time to prepare everything to be ready as the first ball was being served! The air was buzzing with anticipation as everyone excitedly shared their predictions as they eagerly awaited their hog roast treat! It was a difficult one to call after such an unexpected tournament that saw favourites Federer and Nadal both defeated, and Andy Murray not participating at all due to injury. As promised, the food was ready right on time and because we served it in a relaxed buffet style, the tennis club could savour it whilst their eyes were glued to the screen!
Hog Roast Broadstairs's eyes were as sharp as the Umpire's as we made sure anyone who wanted seconds during the match was served quickly and discreetly as they watched Djokovic beat Anderson, who must have been exhausted after that epic semi-final, in straight sets! It was great food for a great tournament, and we look forward to seeing them all again next year!