Celebrating your wedding anniversary is a personal choice and the way that you choose to enjoy the day will vary considerably between couples. At Hog Roast Cranbrook, we have catered for small, private gatherings, large anniversary parties, and everything in between. Here is what you can expect when you book in with Hog Roast Cranbrook today…
Harrison and his wife got married ten years ago this December and the pair are currently finalising the details for their upcoming anniversary party. So much has changed since their wedding day, so they want to host a big party to celebrate with all of the new people in their life, including eight grandchildren. The party is set to take place at a function room in Kent, with the Hog Roast Cranbrook team on hand to provide the catering. For the menu, our manager Matt will be serving a classic hog roast, with a few additional dishes to create a well-rounded evening buffet.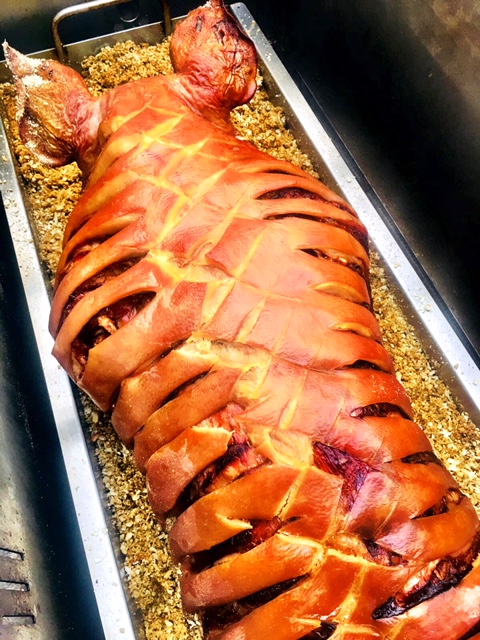 In preparation for this event, Matt and the Hog Roast Cranbrook team will arrive at the function room in the afternoon, giving us over five hours to slow-roast the hog to perfection. Once it is time to serve the menu, the hog will be expertly carved by our chef and served in fresh bread rolls, alongside sage and onion stuffing, homemade applesauce, and crispy crackling. Additionally, we will be serving succulent pork sausages and veggie sausages to create hot dogs. For the side dishes, the guests can enjoy homemade chips, sweet potato fries, seasonal salad dishes, gourmet coleslaw, and corn cobettes. Overall, this menu includes a wide variety of dishes for the guests to choose from, with something for everyone to enjoy. The menu is sure to be a great addition to what is already bound to be a great anniversary celebration. The Hog Roast Cranbrook team is looking forward to being part of such a special occasion later this year!
Are you looking for a caterer for your upcoming anniversary party? If so, get in touch with Hog Roast Cranbrook today. We hope to hear from you soon!