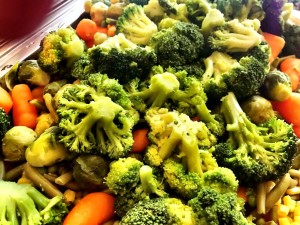 There is no doubt that summer is by far our busiest time of year here at Hog Roast Sandwich for wedding catering. However, we believe that a winter wedding can be just as romantic and beautiful as any summer wedding. The only downside is the British weather, however if luck is on your side you might get a wonderful white wedding with a dusting of snow for the occasion to make it that bit more magical!
This week we catered at Hannah and Oliver's wedding. Although snow does tend to add to the romance this time the Hog Roast Sandwich team were hoping for clear skies as we had a one-hundred-mile round trip to get to the venue. Once we arrived, we entered a beautiful marquee that had been decorated with what must've been thousands of lights and garlands and even a whole wall adorned with tulips (the couples favourite flower) – it looked truly spectacular!
Eager to get started on the catering we set up our machine and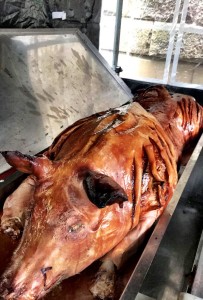 as always, the first thing we do is put the meat on to roast. The couple had gone for our traditional slow roasted hog as the centrepiece and as we were cooking for two hundred guests, we would need several hours to roast a hog of this size. Our head Hog Roast Sandwich chef carefully scored the skin and massaged in lots of sea salt that creates the most mouth-watering crackling. Our team then got to work preparing the accompaniments. As it was a chilly 4 degrees outside, the couple had aptly gone for our standard 'winter warmer' accompaniments of slow roasted seasonal vegetables and lots of homemade gravy. This was to be served with slices of the succulent hog and all finished off with a slice of the three tired wedding cake that we spied in the corner of the room.
Just as serve time came around at 3pm the hog was ready to be eaten by the line of hungry guests…