It's been another successful week here at Hog Roast Tunbridge Wells, as the team have been putting their remarkable cooking and service skills to good use by catering for a family barbecue. With the weather being as good as it has been lately, Paul, our most recent client, decided that he wanted to take advantage and have a big family BBQ in the sunshine. He contacted us after seeing a picture of one our spit roasts on Facebook and asked us to provide one for him and his family.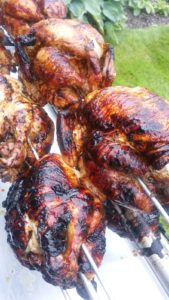 After speaking to Paul about the particulars of his event, we eventually had all the info we needed and moved forward with the planning. The big day soon arrived and we were on site by early-morning, in order to have everything ready by the late-afternoon serve time. Our Chef set to work butchering the Hog and placing it on the spit for roasting, whilst our catering assistant set up the serving tables and laid out plates and cutlery. For the day's Spit Roast there was a choice between the Spit Roasted Pig served with apple sauce, stuffing and crispy crackling or the spit roasted or the local free range spit roasted Chicken served with stuffing and a homemade onion gravy, both in accompaniment of a seasonal veg medley and roasted new potatoes.
The food was available as soon as people began to arrive, thanks to the careful planning of the team at Hog Roast Tunbridge Wells, and guests could grab a bite at their own discretion. The Spit Roasted Pig went down particularly well, with many people asking for seconds and even thirds of the succulent meat. As the afternoon progressed the sun continued to shine and all the guests had a wonderful time drinking, dancing, laughing and smiling. When the evening eventually drew to a close, Paul thanked the team at Hog Roast Tunbridge Wells for making his BBQ the best of the year, as they tidied away their mess discreetly and disposed of any waste offsite.