With our newly-added Alfresco standalone menu, you can wow your guests with three courses of wholesome goodness, including antipasti platters, a hog roast and then homemade dessert. While you may know Hog Roast Rochester as providers of traditional hog roast centrepieces, which result in moist and tender meat and crispy crackling after sizzling away for hours on end, we have so much more available too, as we've always understood the need for choice and variety, so whatever kind of menu you're dreaming of having at your next special occasion, contact our experts to see how we can satisfy both tastes and diets.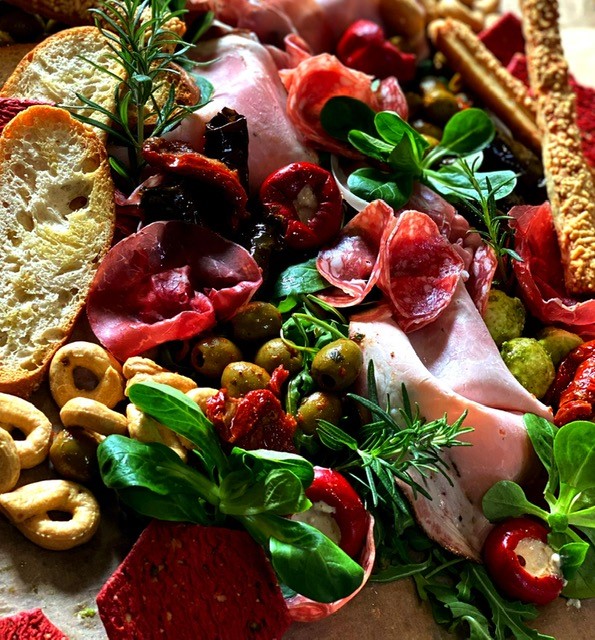 Our Alfresco is a gorgeous menu if we do say so ourselves and it's a great way to enjoy your Hog Roast Rochester hog roast with an Italian-style starter and then finished off beautifully with something sweet. First of all, platters are served to the tables, full of meats of Prosciutto parma ham and salami and cheeses including Gorgonzola, Parmagiano and Buffalo mozzarella, all to be enjoyed together with ciabatta, focaccia, and breadsticks, as well as balsamic vinegar and extra virgin olive oil. Your slow-cooked hog roast main course is then served buffet-style, with the meat accompanied by our crackling and homemade apple sauce and sage and onion stuffing, as well as a selection of freshly-baked rolls and wraps, so you can choose to devour your main as our famous pigs in buns.
With your hog roast, you also get several salads, including our homemade gourmet coleslaw that's tossed in a lemon mayonnaise, our tomato and mozzarella salad with basil and sea salt and a selection of seasonal leaves that are tossed with spring onions, bell peppers and cucumber, as well as either roasted new potatoes or buttered new potatoes. Finally, if anybody has any room left, dessert is served, and you get to choose two options to be served from the buffet table, such as profiteroles and tarte au citron or chocolate torte and cheesecake.
Whether you fancy this amazing menu for your next party or event or something completely different, call Hog Roast Rochester to see how we can make it extra special.