Being the organiser of an event can be stressful, to say the least- but there are several simple tips and tricks to try to make your life much easier! We have been catering for many years, which means that we have seen many successful events, so we have decided to create a list of handy tips for you to try before organising your next event…
Begin with a budget
The first step to planning an event should be creating a budget. This way you can ensure you are staying on track with your spending to avoid any nasty surprises at the end. At Hog Roast Kingsdown we have a catering package to suit any budget and party size, so we are always on hand to provide excellent food for your guests.
Expect the unexpected 
With any event, it is impossible to plan every detail since there are always going to be surprises and unexpected moments. The best way to deal with this is by accepting that there will be aspects of the event that you can't control- which isn't necessarily a bad thing! A lot of fun and exciting opportunities can occur when you least expect them.
Keep your audience in mind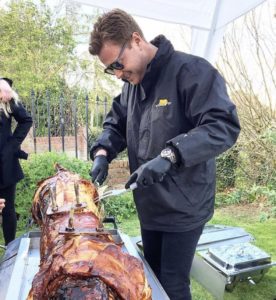 Throughout the planning phase, it is important to keep your guests/audience in mind at all times. This allows you to provide entertainment, seating, décor and catering that are suitable for your audience, which is incredibly important if you want to host a successful event. Hog Roast Kingsdown can help you to choose the perfect menu to suit your guests since we have catered to a wide variety of audiences in the past.
Hopefully, this blog post has given you some handy tips and tricks to try to make your future event planning much easier. Are you in need of a caterer for your next event? If so, get in touch with Hog Roast Kingsdown today to get booked in! Simply let us know your party size, date and location and we can add your event to our diary. Then, we can get to work planning your perfect menu.