This year, Helen and Craig were hosting a New Year's Eve party at their home, however, they were inviting a large number of guests and did not feel confident enough to cater for so many people. In addition, the couple wanted to relax and enjoy a drink with their guests and so they hired the Hog Roast Ashford team to provide a delicious buffet for their friends and family.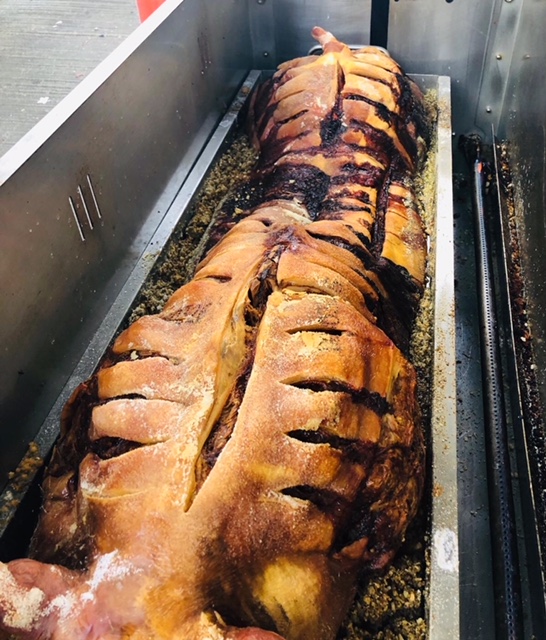 On New Year's Eve, the Hog Roast Ashford team arrived and set up until their marquee outside. The team had brought their own Hogmaster machine to roast the meat and provided the guests with crockery and napkins. The couple requested for the buffet to be served from 7pm to 8pm so that all of their guests could enjoy the food. Many of the guests arrived earlier in the evening and there was a great atmosphere created as all of the couple's guests passed around bottles of wine and champagne.
   Helen and Craig chose Private Party Menu One for the Hog Roast Ashford team for cook for their guests. This menu consisted of a slow roasted hog which was cooked to perfection by the team's head chef. The meat was served with apple sauce, stuffing and crackling which complimented each other well. In addition, an assortment of bread rolls were served alongside the meat so that the guests could enjoy a casual, relaxed meal. The guests really enjoyed the food and many returned for seconds throughout the hour.
   The couple had managed to create a fantastic atmosphere for their party and the Hog Roast Ashford team ensured that they maintained it by provided a friendly service to the guests. The guests had a great time partying through the night and the Hog Roast team quickly and discreetly cleared away their tables and marquee and left the guests to enjoy the party. The couple were pleased with the service and the quality of the food. They said they would definitely recommend the Hog Roast team to their friends and colleagues as the team helped to make their New Year's Eve Party special.