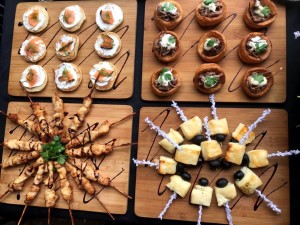 Its finally the weekend which undoubtedly means another wedding event for Hog Roast Deal! Over the years we have catered for countless weddings and we really believe it is testament to our team and our machines that we are so versatile that we are able to cater for any style of wedding day.
This time we were asked to go the whole hog so to speak. That means a traditional whole roasted hog that we prepare on site that we then carve and serve to guests. This was to be accompanied by lots of seasonal roasted potatoes and vegetables that we roast alongside the hog to make them packed full of flavour. Of course, a Hog Roast Deal roast would not be complete without the gravy and stuffing that we make from scratch. Finally, this is all topped off with lashings of homemade applesauce and delicious, mouth-watering Hog Roast Deal crackling that people seem to go crazy for!
For Kieron and Georgina's day they also wanted us to provide the traditional wedding style catering of canapes and a welcome drinks service. This was as the wedding was being held in the magnificent Deal hall and the couple wanted the guests to be occupied whilst they had their photoshoot in the hall's gardens. Despite the chilly December weather, the gardens looked absolutely stunning and so we could see why they had chosen the venue.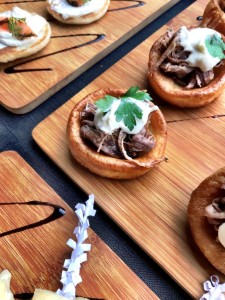 With photos over it was time for the main Hog Roast Deal event. Our staff were busy serving and reported of how delighted the guests looked when handed their plates as it had been a long day, as weddings often are, and the thought of celebrating with a Hog Roast Deal hearty meal had been spurring them on. We made sure the bride and groom got an extra portion for their special day and wished them all the best before we discretely packed away and left them to enjoy the night…