Last month we were lucky enough to provide another hog roast at Molash village hall, for a wedding party. This venue is one of our favourites.
The lovely white hall is tucked away in a quiet spot, and has its own car park, which makes it a great place to hold a party. It is used by a lot of families in the area for special anniversary and birthday celebrations.
As a result, over the years, we have provided the food for several parties in this lovely village hall. A couple of years ago the council redecorated inside and out. During the process, they updated the kitchens, which was great for us. Having a space like this is a real bonus, given the fact we are used to preparing everything in an outdoor marquee.
The family asked us to provide all of the food for this special event, as well as waiting staff. For small weddings, our menu 1 option is the most popular. There is more than enough food for a small group to enjoy, and plenty of variety included in the menu. At this event, the lamb proved especially popular, and quite a few guests were pleased to see a good vegetarian option available, as well as a range of vegetable dishes.
Over the years, we have seen demand for vegetarian food increase, so have gradually updated our menus to include more of this type of dish.
Our waiting staff received many compliments about their attention to detail. As usual, they made sure that everything was served at the right temperature, and ensured that each course was presented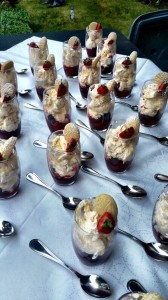 professionally. Our selection of desserts proved particularly popular, and we helped to serve the wedding cake at the end of the meal, after the speeches.
Once the food had been eaten, the tables and chairs were moved back against the walls to make room for some dancing.
This hog roast Molash event was a great success. The quality of the venue, and the support provided by those who run the hall helped to make our job of providing wonderful hot food a delightful experience.