Not long returned from your holidays? Feeling that sudden need for the sun, the sea, and the delicious Mediterranean foods? Not quite ready to let go of summer and go back to work? Well then are you in luck because with Hog Roast Pett Bottom and our Mediterranean inspired catered menus you can bring your holidays back home with you and enjoy the delicious, fresh, and zesty tastes from across the Channel.
No, even we at Hog Roast Pett Bottom might not be able to promise the 30+ degree heats and the sunny European skies, nor we can bring you to the wonderful blue Med ocean views, but we can resurrect a bit of that atmosphere and feeling through our foods for you at the very least. For summer our catering is going across the waters to bring home the fine meat tastes of Italy, the fresh salad colours of the Greek, the rich and creamy desserts of the French. Our Alfresco menu will deliver that little slice of the holiday life that you are still after, and it will do so with style and plenty of deliciousness in the way that only Hog Roast Pett Bottom knows how!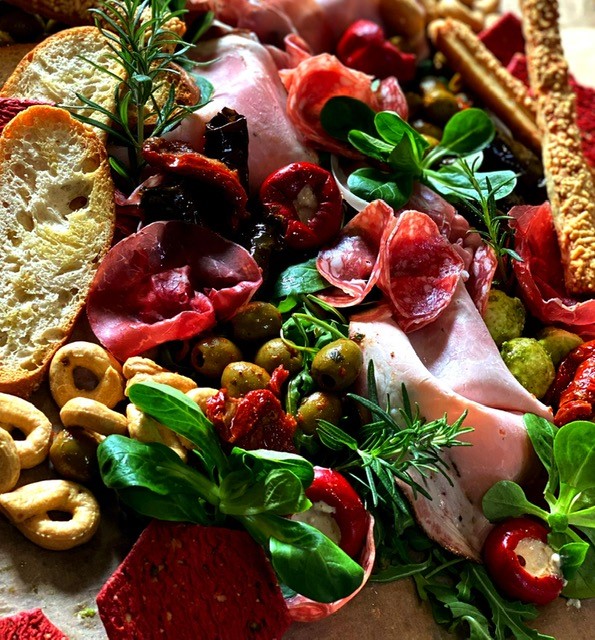 Our Alfresco menu begins with platters of the finest Italian meats and cheeses served along with artisanal breads and a selection of zesty oils for drizzling. We're talking the finest thin cuts of prosciutto Parma ham and salami joined by fresh buffalo mozzarellas, parmigiano, gorgonzola, all available to be placed upon fresh baked cuts of our own herb focaccias, ciabatta, and bread sticks. Still need a bit of extra zest? Then drizzle over our extra olive virgin oil or balsamic vinegar.
Save plenty room though, because we have Greek salads, delicious halloumi and veg skewers with tzatziki and wraps, buttered new potatoes, shredded hog roast or BBQ jackfruit, a heritage tomato and mozzarella salad, gourmet coleslaw, and plenty more to come after.
Okay, so perhaps you won't be able to keep that swim-wear ready body with our menus…but it is all absolutely worth it with the tastes of Hog Roast Pett Bottom!