After almost twenty years since leaving High school the class of 1998 were having a reunion party to see what everyone had got up to in the last few decades. Hog Roast Gravesend were invited to cater, and we looked forward to seeing everyone's old school photos and whether old pals had remained friends over the years.
The reunion was being held in the school's old gymnasium which was a huge room that was now used for functions such as this. We had no trouble manoeuvring our trusty machine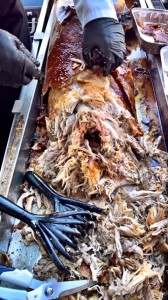 indoors thanks to the wheels and portable design, so we could quickly get to work preparing the Hog Roast Gravesend. For this occasion, we prepared one of our private party set menus  that includes a whole roasted hog, Cajun spiced chickens that we spit roast and the client's choice of accompaniments. We had been asked by the organisers to prepare enough food for one hundred people although unfortunately not everyone had RSVP'd, so it was impossible to know the exact number of guests. This didn't matter to us as due to our fully flexible cooking style we can cater for any number of guests and we had agreed that we would bring along a pig large enough for a surplus of guests as usually people like to have second helpings and sometimes even take home any leftovers.
After the meat was cooked and the crackling was plated we found we had a steady stream of ex pupils lining up to sample our Hog Roast Gravesend. It was amazing to see how different everyone's lives had become and the careers they had gone down from lawyers and doctors to a pilot and professional scuba diver! There was even another local catering business at the event as the manager was part of the reunion. He was very interested in our style of cooking and as it turned out had booked in to hire one of our machines the following week!
By the end of the event there wasn't a hungry person in sight and we found we didn't have any leftovers after all, which is just the way we like it!