Hog Roast Aylesford is a great choice of caterer for any kind of party or event that you're organising, and we're often asked to serve our delicious food at corporate events, birthday parties, engagements, anniversaries and retirement functions, and weddings of course. We have a multitude of menus available but we also offer our customers the choice of designing their own menu if preferred, as we know just how important it is for the food you want to be served on your special occasion. Sometimes, however, one of our menus is perfect as it is, and for an event that we catered recently in Maidstone, that would be our Menu 1 – pigs in buns.
When we create our tasty hog roast rolls, it's by first preparing a locally-sourced hog and then slow-roasting it until the meat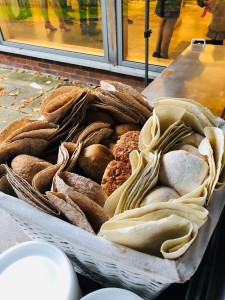 becomes incredibly tender. The meat doesn't dry out as we cover it in water, and the skin turns into crispy crackling as we smother it in lots of salt before cooking. Our pigs in buns are a local favourite as well as a national one, and for Karen's Saturday evening event at Wateringbury Village Hall on Tonbridge Road, we would be serving just that for 70 to 80 guests, as well as a vegetarian option. Hog Roast Aylesford ensures to offer plenty of alternative dishes for guests with special dietary needs, and one of our most popular is our veggie skewers, which have halloumi pieces and various vegetables such as mushrooms, tomatoes, red onion, peppers and courgette. We are also sometimes asked to make vegan skewers, which we do by not adding the halloumi cheese.
On the day of the event, our Chef Ben and his Hog Roast Aylesford team made sure that the serving tables looked spotless, as always, from the pretty tablecloth to the neat presentation of the serving dishes, sauces, plates, and napkins. The bread selection itself looked amazing, with wholemeal and white wraps and white, brown and topped rolls all looking inviting and ready to be stuffed with bits of meat, crackling, apple sauce and sage and onion stuffing. By 5pm, once the skewers were grilled to perfection and the gorgeous hog was ready to carve, the queues began and Chef Ben got the carving knives out.