Hog Roast Aylesford get regularly asked to cater at a variety of events which range from corporate, business driven affairs to wedding celebrations and private parties; we thoroughly enjoy every one of them and always ensure that we exceed the clients' expectations.  We were thrilled to be asked to cater recently for 80 guests at a Golden Wedding Anniversary at The North Barn at The Friars in Aylesbury Priory which is fabulous location for any celebratory events.
Whilst weddings are a regular speciality of ours, it isn't often that we get invited to cater at a Golden Wedding Anniversary and for the celebratory couple, this is a tremendous event and milestone recognising the love and commitment of each person.  For an event like this, having the most appropriate menu is essential as a wide range of ages and tastes is likely – after discussing with the client, they were sure that our hog in a roll option would go down a treat and with our legendary veggie skewers, this made an ideal combination.
Hog Roast Aylesford regularly caters for private events but we also cater for corporate events, charity events, private parties and wedding events and we are renowned for very high-quality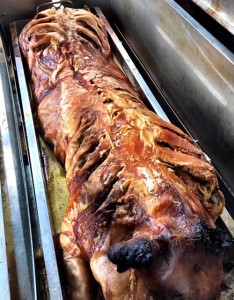 food and exceptional service; catering for this type of event is something that Hog Roast Aylesford excels at and a wide selection of menus is available that will ensure that guests will always go away fulfilled and satisfied that the food that they have eaten has been high quality, delicious and with a professional service.  Whilst in this case, the menu selection was straightforward, in many cases a client may want more formal catering with sit-down service, drinks and desserts which, of course, we can readily deliver.  We also get asked regularly to cater for specific dietary requirements and we believe that we can provide exceptionally delicious food for any requirements which may include vegan, Halal, wheat-free amongst many others.
With 80 mouths to feed at 5pm, we arrived and setup in plenty of time and with time to take in the atmosphere of the Priory and the massive barn; our food went down in no time at all with many guests coming back for more and with lots of positive feedback.  Hog Roast Aylesford and our Golden Pig logo was a definite success as part of this Golden Wedding!