A young couple recently got in touch with us here at Hog Roast Sidcup, by the name of Natalie and Matthew. Having just gotten engaged, they wanted to throw a party and invite all of their close friends and family to celebrate. They came and spoke with us about the kind of party they were after. It was to be held in their home and there would be about thirty people attending, so they needed plenty of delicious food to be prepared, but they also needed a Gazebo, as the lack of space meant the food would be prepared and kept warm, outside in the garden.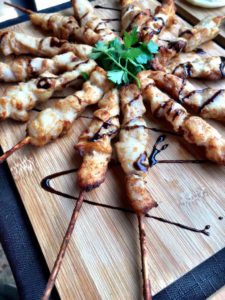 The team from Hog Roast Sidcup were on hand from twelve noon, as they started their preparations for the night's celebrations. There was plenty of food to prepare for the thirty close friends and family that had been invited. Of course, there was the Hog that needed butchering and roasting whole and slowly for hours to achieve the perfect taste and texture, but Natalie had also asked us to prepare a selection of canapes and desserts to be available throughout the night. Over the course of the afternoon, the chef prepared all the food and placed them in chaffing dishes to keep warm, as the catering assistants added some finishing touches to the room, by hanging 'Congratulations' banners and balloons.
The guests began to arrive by seven o'clock in the evening, by which time the smell of the glorious Hog Roast was wafting through the air. We were stationed outside in the garden, looking after the food. Among the options for tonight were – the mini beef burgers and the mini veggie burgers; the mini Pizzas topped with sliced Greek Olives; the Spicy Thai Chicken Kebabs; the creamy Feta Skewers and the Peking Duck Wraps. Also, for desserts, Vacherins of Strawberries and Passionfruit cream, or the zesty Lemon Tart. The guests picked from the selection as the night progressed, and ate using high quality disposable wooden crockery with napkins.
Both Natalie and Matthew really enjoyed their night celebrating with their friends and family, and they thanked us for making their party a special one, and promised to be back in touch once plans for the wedding were underway. With nothing left to do, the team at Hog Roast Sidcup tidied away their mess discreetly and disposed of any waste offsite.