The Hog Roast Deal team found ourselves cooking in the courtyard of a bookshop and café a few days ago, preparing one of our classy corporate buffets for the book signing event of a new local author! Lindsey had always been considered something of a foodie by her friends and family and was always giving them amazing recipes. With a lot of encouragement, they eventually persuaded her to write her own recipe book and she achieved her dream of getting it published!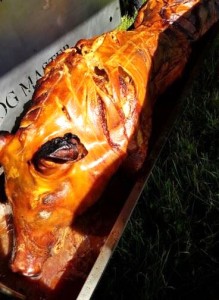 Lindsey had always been a massive advocate of fresh local produce and making the most of seasonal ingredients, which is the theme of her new recipe book.  When it came to the food for her book signing she insisted on having a catering company who shared her food values, and Hog Roast Deal were her first and only choice! Lindsey and the owner of the bookshop were impressed with our exclusive use of fresh, locally-sourced ingredients and our inventive menus, which are always prepared from scratch at the venue. In fact, she was looking forward to trying our food as much as she was looking forward to basking in her newfound celebrity status!
By the time Lindsey was ready and waiting for the arrival of her foodie fans with a pen in her hand and copies of her new book piled up beside her, we were also ready to welcome everyone with our delicately roasted pork, accompanied by our own take on Waldorf salad, homemade coleslaw and crispy potato wedges. Lindsey was overwhelmed by the turnout from her proud friends and neighbours, all eager to congratulate their homegrown domestic goddess and grab a signed copy of her first recipe book! Lindsey and the attendees were also overwhelmed by the quality of Hog Roast Deal's homegrown food and the sales of Lindsey's book went through the roof as everyone tucked into our local delicacies.
Lindsey thanked us for helping her to make the day a huge success and she told us she couldn't think of a better culinary choice to promote her own locally-inspired collection of recipes! Hopefully we will see Lindsey again after she has published her second book!