Over the last twelve months, many businesses, attractions, and public spaces have had to close due to COVID-19 restrictions. For some, they were able to simply reopen as the restrictions eased. However, for others, there were more challenges in place- such as online competition, lack of staff, or lack of funds. After such a period of uncertainty, it is a big celebration to reopen any establishment, but especially one that so greatly benefits the community, which is what we see here!
After facing closure due to COVID-19, the Marlene Street community centre was finally able to reopen its doors this spring. The community centre is the heart of the town, with social groups for people of all ages, including art clubs, sports teams, and coffee mornings. During its closure from the public, the centre received donations from local people, allowing the main hall and entryway to be refurbished. To thank the community for its generosity, Hog Roast Ashford were asked to provide catering for the grand reopening.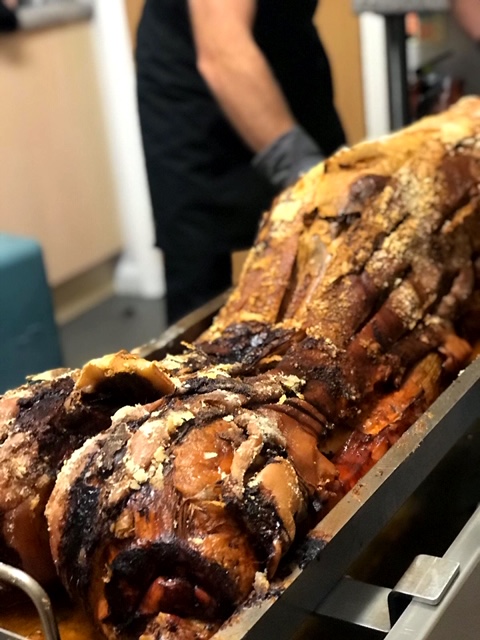 On the day of the reopening, our team arrived in the morning to set up our catering station in the main hall. We were asked to provide our slow-roasted pig menu to 100 guests, so we began to slow roast a large pig in preparation. Alongside the pig, we were serving fresh bread rolls and wrap, as well as sage and onion stuffing, crispy crackling, and homemade applesauce. This is a cost-effective way to feed a large number of people, while still receiving a delicious Hog Roast Ashford meal!
As the guests arrived they were allocated a timeslot, which reduced the waiting times at the buffet station. We served every guest, with plenty left over for seconds! The meal was a success and it was the perfect way to start the grand reopening of the community centre.
Whether your business is opening or reopening, why not get Hog Roast Ashford to cater for the occasion? We have over 7 different catering packages, with a menu to suit any event. To book your catering today, simply let us know your party size, date, and location and we can begin to plan your perfect catering.